Young Musicians Program
for 6 to 8 years old
Music - A lifetime Treasure
Listening to beautiful melodies, singing along to the radio.....music is ever present in our lives. One of the greatest gift you can give your child is the ability to read, play and express feelings through music. At Yamaha Music School, our mission is to foster a thorough appreciation and love for music, while we nurture your child's innate musical talents to its best potential. Our Electone, Pano and Guitar courses for primary school children are structured up to an advanced level where your child can achieve internationally recognised qualifications.
Junior Step Fundamental Course (JSFC )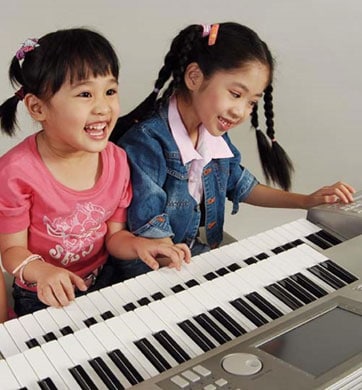 JSFC is designed to give children a comprehensive and thoroughly enjoyable music education. The basic learning process is Hearing - Singing - Playing, with the primary goal being an ability to play the repertoire. This repertoire consist of a variety of pieces chosen not only for their musical value but for their appeal to children, ensuring that the students will play them eagerly and enjoyably.
During the elementary level, your child gains knowledge of tones, methods of expression, the basics of orchestration, and subsequently gains the ability to arrange, improvise and compose! After completion, students proceed to the intermediate and advanced levels.
Lesson Details :
Intake
Monthly
Target
6 to 8 years old
Format of Lesson
Individual or Group
Lesson Duration
Individual - 30 min / Group - 60 min
School Fee
RM 170 (Individual) | RM 156 (Group)
-
-
Piano Course for Children (PCFC)
Nothing can be more satisfying than sitting down at the piano and playing a much-loved melody. This course is designed specially for children who have minimum or no music background and focuses on developing their overall musical abilities. During the elementary level, the children learn piano performance techniques to play various types of music, develop an ability to listen and play together with other players, learn to read and write music, symbols and musical terms, and also to sing and play by ear. Lessons are kept enjoyable and effective through the use of pictures, CDs and disk accompaniment technology found on Yamaha's Clavinova instrument.
After completion, students proceed to the intermediate and advanced levels
Lesson Details :
Intake
Monthly
Target
6 to 8 years old
Format of Lesson
Group
Lesson Duration
60 min
School Fee
RM 170 per month
-
-