Acoustic / Electric / Bass Guitar and Ukulele
Acoustic / Electric / Bass Guitar and Ukulele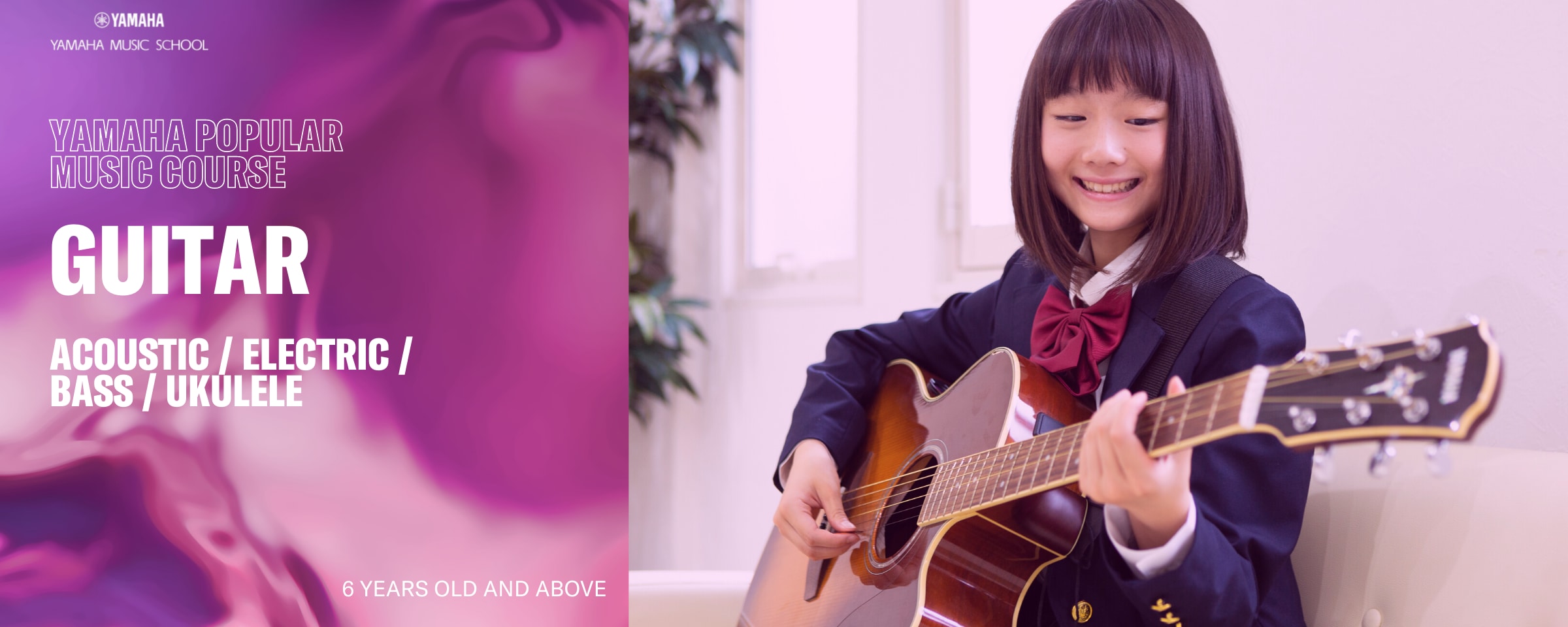 Acoustic / Electric / Bass Guitar and Ukulele
Age range: 6 years old and above
This course aims to cultivate students' richer musical expressions, essential basic playing techniques, musical knowledge and music reading skills in order to enjoy playing the acoustic / electric / bass guitar or ukulele as a beginner.
---
Acoustic Guitar

Benefits:

Understand and grasp acoustic guitar playing techniques in a relaxed and steady manner
Learn new chords
Learn various playing styles
Understand the position of the notes
Understanding of keys through scales
Understanding of chords and improving performance techniques through the experience of chord progressions that are commonly used in popular pieces

Students will experience:

The correct form of holding the chords
The technical element of strumming and the rhythmic aspect of strumming
Finger picking which focuses on playing techniques of using right hand fingers by mastering the arpeggio patterns
Duet and trio playing through exercises
---
Electric Guitar

Benefits:

Learn various types of chord forms, position, and how to hold the chords
Understand scale movements and finger positioning, musical sense and finger dexterity
Master various techniques such as bend and hammering on
Learn various styles of rock through chords, scales, rock guitar phrases and riffs exercises

Students will experience:

Basic rock guitar playing techniques
Improvement on performance techniques and deeper understanding of keys
Application of lessons learned throughout the chapters
---
Bass Guitar

Benefits:

Learn various bass playing techniques
Learn various styles of music involving a bass guitar
Understand the role of a bassist in a band

Students will experience:

All kinds of bass techniques
Becoming an effective bassist in a band
---
Ukulele

Benefits:

Learn chord playing, melody playing and solo playing
Learn to play various music styles such as pop, rock, jazz and Hawaiian
Understanding of chords, left hand form and right hand strumming techniques

Students will experience:

Chord playing technique, melody playing technique and solo playing technique
Ensemble playing
Course Information:

Class Length

Individual 30 Minutes; Group 60 Minutes

Course Length

2 – 3 years

Parent Participation

Not Required

Class Type

Individual or Group

Assessment Type

Yamaha Electric Guitar Grade 10 – 6 Exams (for Electric Guitar course only)

Materials

Textbook and online streaming materials

Cost Per Lesson

From RM186 per month (group)
From RM206 per month (individual)
"Autumn Leaves" by Joseph Kosma, guitar cover by Yamaha Music School student, Mohd Shahzwan
1. Printed Lesson Material + Streaming Audio
Yamaha's unique curriculum has been designed with the philosophy of wanting everyone to enjoy music. Our instruction is based around original curriculum and teaching materials we've developed through more than 60-years' experience. We also offer realistic audio accompaniment developed exclusively for our lessons that you can play along with, like in live performances, and for home practice.
2. Individual, Group and Online Lesson Styles
Our lesson formats are tailored to the course, from group lessons (held with an appropriately small number of students) where you can relax with your fellow students having the same interests and enjoy ensemble playing, as well as individual lessons that progress according to your personal wishes and goals, and online lessons where you can receive instruction without going to the lesson venue (suitable online environment required).
3. Yamaha Grade Examination
Yamaha Grade Examinations help you as a music learner to confirm your musical abilities and encourage you to gain well-rounded musical skills, so that you can fully enjoy creating and performing music.
4. Concert
We hold special presentations and events for each classroom and course as an opportunity for you to demonstrate the skills you've gained in the lessons. The pleasantly tense excitement of the performance and the sense of fulfillment it creates are invaluable.
Acoustic / Electric / Bass Guitar and Ukulele