Piano Fundamental Course for Teens and Adults
Piano Fundamental Course for Teens and Adults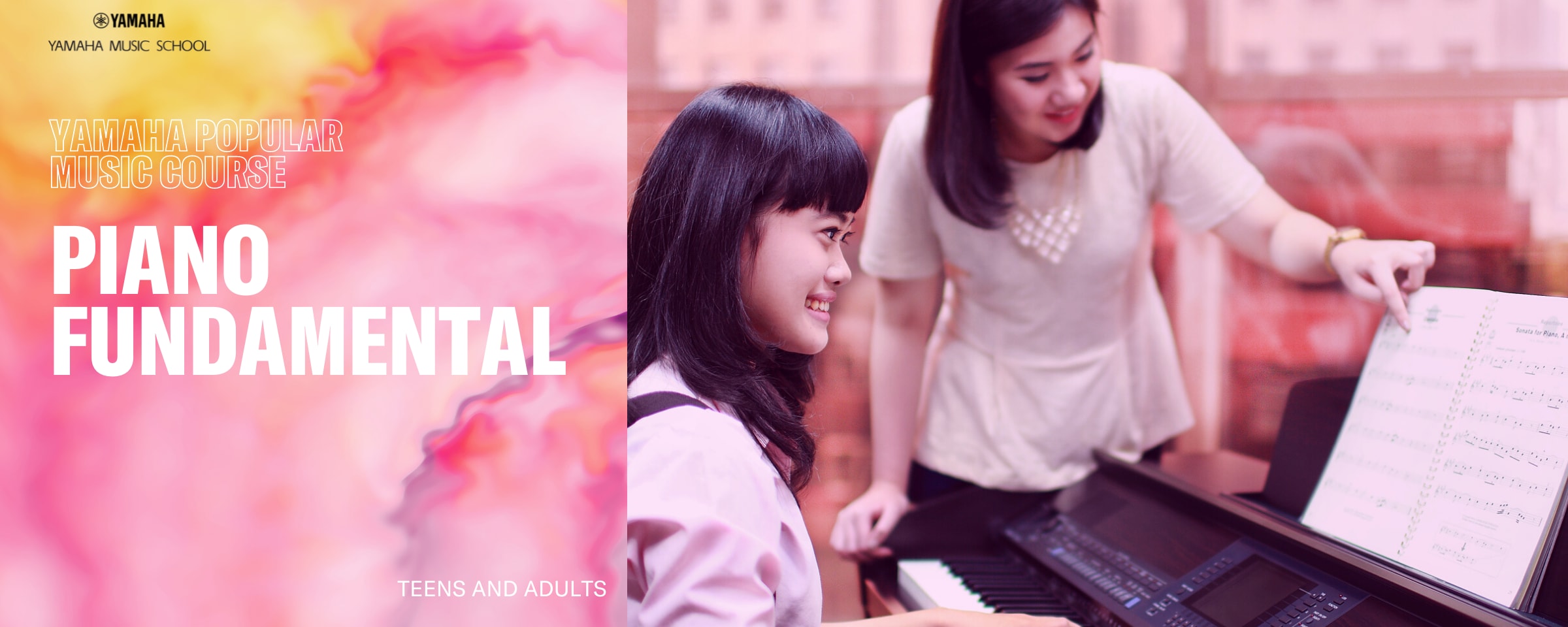 Piano Fundamental Course for Teens and Adults
Age range: 15 years old and above
It is never too late to learn a musical instrument. The Piano Fundamental Course is specially designed for teens and adults featuring interesting songs to learn that will appeal to more mature students. If you have ever had the desire to learn to play the piano but have written off the possibility thinking that music learning only starts at a young age, this course will prove you wrong. Written for teens and adults with zero background in music and without any experience whatsoever on the piano, you will find that this course is comfortable and easy to follow and helps you develop the fundamental skills of playing the instrument. Our highly experienced and qualified teachers will teach you as an adult, guiding you in every step of the way and leading you through every page of the learning material to help you develop the skills you have always dreamed of. By the end of the course, you will realize that playing the piano is way easier than you think, and that you have acquired a foundation to enter the next stage in the Yamaha music learning curriculum which your teacher will advise you on.
Designed with teens and adults in mind, who have no prior experience in playing the piano
Provide students the foundational knowledge and exposure that will enable them to enjoy piano playing in the long run
Step-by-step curriculum enabling students to transition from one-hand to both-hand playing
Songs and exercises that accompanies the lesson learning enables students to have an all-rounded learning experience
Students will experience:
A great variety of exercises that helps build the foundational skills of note reading and to build finger muscles
Playing diverse range of music whether with one or both hands, together with friends or solo
The joys of playing various rhythmic styles along with supporting audio to build student's tempo and rhythm sense
Theoretical works to confirm the points learnt
Course Information:

Class Length

Individual 30 Minutes; Group 60 Minutes

Course Length

1 – 2 years

Class Type

Individual or Group

Assessment Type

Yamaha Pop Piano Grade 10 Exam

Materials

Textbook and online streaming materials

Cost

RM165 per month (group)
RM185 per month (individual)
Learning Material for Teens and Adults with Zero Background in Music
Learning Material for Teens and Adults with Zero Background in Music
This introductory course teaches you how to play the piano, and gives you the necessary fundamental piano-playing skills. It begins with the basics of the piano, including proper keystroke and posture, fingering techniques, and how to read notes. In addition to employing a clear curriculum that makes you familiar with the keyboard one hand at a time, you will also experience playing simply arranged songs with both hands from an early stage. And even the simple exercises can be played with beautiful accompaniment data.
Finger Exercises Sample
By the combination of one-handed practice with two-handed practice, you can develop basic skills through introductory arrangements of well-known songs. With the helpful exercises and repertoire, you'll soon be able to play with both hands.
Repertoire Sample
By the end of the curriculum, you'll be able to face the challenge of learning the famous Edward Elgar composition, "Pomp and Circumstance."
Finger Exercises Sample
Repertoire Sample
1. Printed Lesson Material + Streaming Audio
Yamaha's unique curriculum has been designed with the philosophy of wanting everyone to enjoy music. Our instruction is based around original curriculum and teaching materials we've developed through more than 60-years' experience. We also offer realistic audio accompaniment developed exclusively for our lessons that you can play along with, like in live performances, and for home practice.
2. Individual, Group and Online Lesson Styles
Our lesson formats are tailored to the course, from group lessons (held with an appropriately small number of students) where you can relax with your fellow students having the same interests and enjoy ensemble playing, as well as individual lessons that progress according to your personal wishes and goals, and online lessons where you can receive instruction without going to the lesson venue (suitable online environment required).
3. Yamaha Grade Examination
Yamaha Grade Examinations help you as a music learner to confirm your musical abilities and encourage you to gain well-rounded musical skills, so that you can fully enjoy creating and performing music.
4. Concert
We hold special presentations and events for each classroom and course as an opportunity for you to demonstrate the skills you've gained in the lessons. The pleasantly tense excitement of the performance and the sense of fulfillment it creates are invaluable.
Piano Fundamental Course for Teens and Adults