Junior Step Fundamental Course
Junior Step Fundamental Course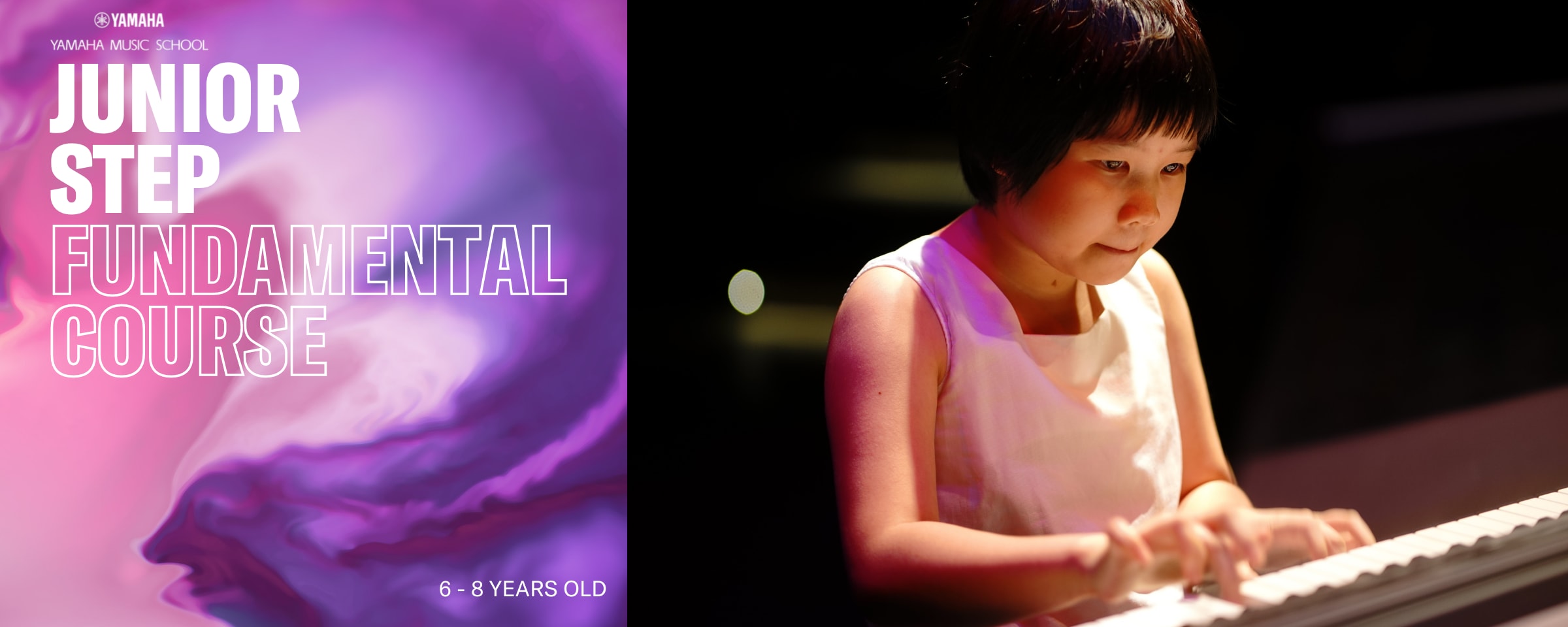 Junior Step Fundamental Course
Age range: 6-8 years old
This course enables your child to develop essential music skills through multi-faceted approaches. By focusing on keyboard performance (Electone) and aural development, your child will comprehend the necessary requirements to reach their full potential.
A variety of age-appropriate teaching styles are taught by highly qualified educators, utilizing skills that challenge and motivate your child with a focus on developing independence, creativity, self-expression and keyboard playing skills in a dynamic group environment or individual setting.
Your child is taught to acquire excellent musical skills through a carefully planned curriculum and approach, enabling them to progress to Yamaha Junior Step program after one year.
Learn repertoire and music skills suitable to their age and development
Develops understanding of both hands playing and basic reading ability
Successfully learn how to play music within a group environment (if enrolled in a group lesson)
Provides a pathway to Yamaha Junior Electone Course
Students will experience:
Repertoire playing
Aural development
Ensemble playing
Chord playing
Lyric/solfege singing
Course Information:

Class Length

60 Minutes

Course Length

1 Year

Parent Participation

Not Required

Class Type

Group or Individual

Assessment Type

Yamaha Grade 13 – 11 Exams

Materials

Textbook and online streaming materials

Cost Per Lesson

From RM156 per month (group)
From RM 170 per month (individual)
Felicia Sim Kai Yun - Junior Kids Section
Sim Yee Hen - Junior Kids Section
1. Printed Lesson Material + Streaming Audio
Yamaha's unique curriculum has been designed with the philosophy of wanting everyone to enjoy music. Our instruction is based around original curriculum and teaching materials we've developed through more than 60-years' experience. We also offer realistic audio accompaniment developed exclusively for our lessons that you can play along with, like in live performances, and for home practice.
2. Individual, Group and Online Lesson Styles
Our lesson formats are tailored to the course, from group lessons (held with an appropriately small number of students) where you can relax with your fellow students having the same interests and enjoy ensemble playing, as well as individual lessons that progress according to your personal wishes and goals, and online lessons where you can receive instruction without going to the lesson venue (suitable online environment required).
3. Yamaha Grade Examination
Yamaha Grade Examinations help you as a music learner to confirm your musical abilities and encourage you to gain well-rounded musical skills, so that you can fully enjoy creating and performing music.
4. Concert
We hold special presentations and events for each classroom and course as an opportunity for you to demonstrate the skills you've gained in the lessons. The pleasantly tense excitement of the performance and the sense of fulfillment it creates are invaluable.
Junior Step Fundamental Course