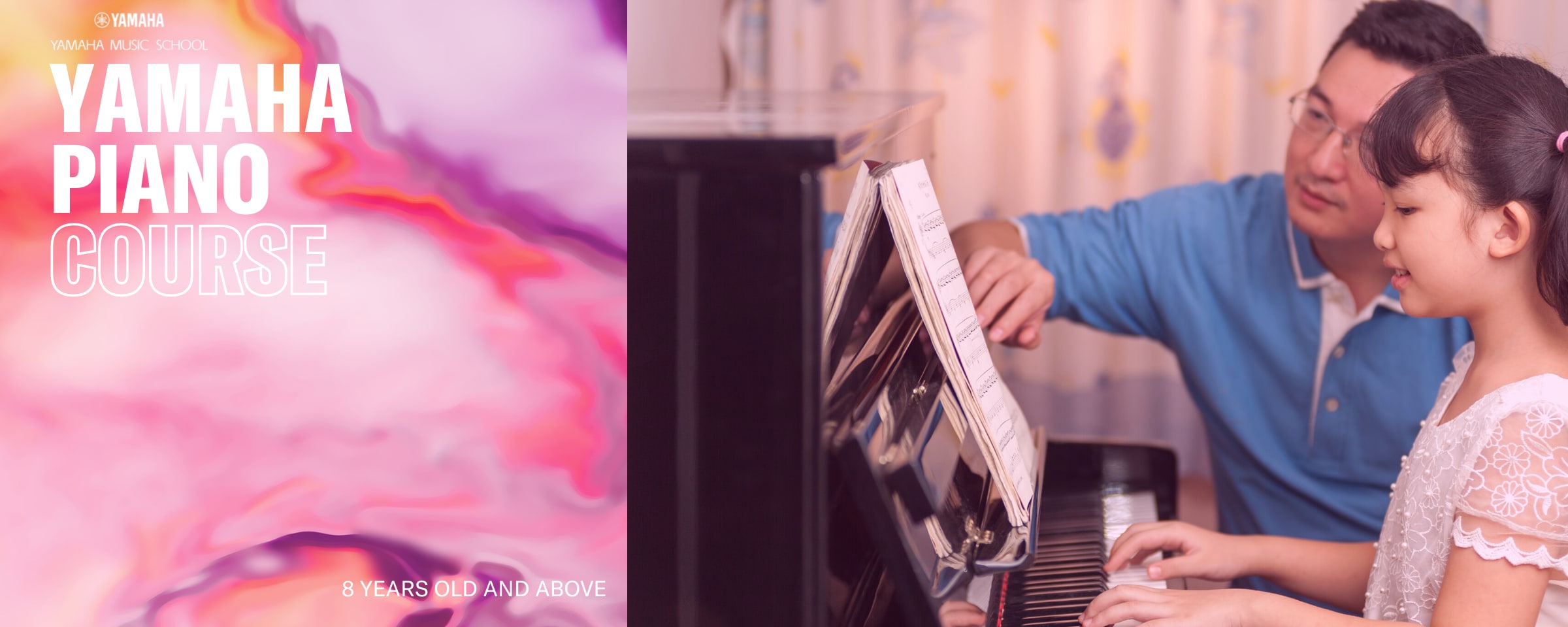 Yamaha Piano Course
Age range: 8 years old and above
The Yamaha Piano Course is a private lesson program that caters for beginner to advanced students of all ages.
Taught by highly qualified and passionate Yamaha teachers, students will learn from Yamaha's exclusive Pianoforte curriculum that has been designed and developed by the Yamaha Music Foundation Japan and is now taught to thousands of students throughout the world.
Students will learn by completing a series of progressively graded textbooks (with online streaming materials), that are designed to develop many important musical skills through the study of repertoire pieces, technical exercises, scales and arpeggios, sight reading, keyboard harmony, piano duets and music rudiments (theory).
The Yamaha Piano Course consists of 12 levels and as students progress through each level they will have the opportunity to sit for internationally recognized graded piano examinations.
For students who undertake exams, our teachers will provide guidance and instruction to ensure that students go into the examination confident and most importantly, prepared.
Learn piano using a proven method, developed with over 50 years of research and experience
Learn from highly qualified and passionate Yamaha teachers
Progress through an internationally recognized examination system
Develop high-level piano skills by studying Yamaha's exclusive Pianoforte curriculum
Learn in a professional teaching environment using quality Yamaha instruments
Students will experience:
One-on-one piano lessons using a modern collaborative approach
Learning repertoire to develop skills and technique
Learn and understand how to play scales and arpeggios
Develop sight reading abilities
Aural training and development
Understanding and applying music theory
Solfege, finger exercises and etudes
Improvisation and keyboard harmony
Course Information:

Class Length

30 Minutes

Course Length

12 Years

Parent Participation

Not Required

Class Type

Individual

Assessment Type

Yamaha Grade 13 – 6 Exams /
External Examination Boards

Materials

Textbook and online streaming materials

Cost Per Lesson

From RM165 per month
YPCC 2020 Ethan Leong Jia Jun - Sonata Op. 49-1 1st Movement by L. v. Beethoven
YPCC 2020 Lim Jun Hong - Etude Op.47 No.1, Op.45 No.1, Op.125 No.4 by Stephen Heller
1. Printed Lesson Material + Streaming Audio
Yamaha's unique curriculum has been designed with the philosophy of wanting everyone to enjoy music. Our instruction is based around original curriculum and teaching materials we've developed through more than 60-years' experience. We also offer realistic audio accompaniment developed exclusively for our lessons that you can play along with, like in live performances, and for home practice.
2. Yamaha Grade Examination
Yamaha Grade Examinations help you as a music learner to confirm your musical abilities and encourage you to gain well-rounded musical skills, so that you can fully enjoy creating and performing music.
3. Concert
We hold special presentations and events for each classroom and course as an opportunity for you to demonstrate the skills you've gained in the lessons. The pleasantly tense excitement of the performance and the sense of fulfillment it creates are invaluable.