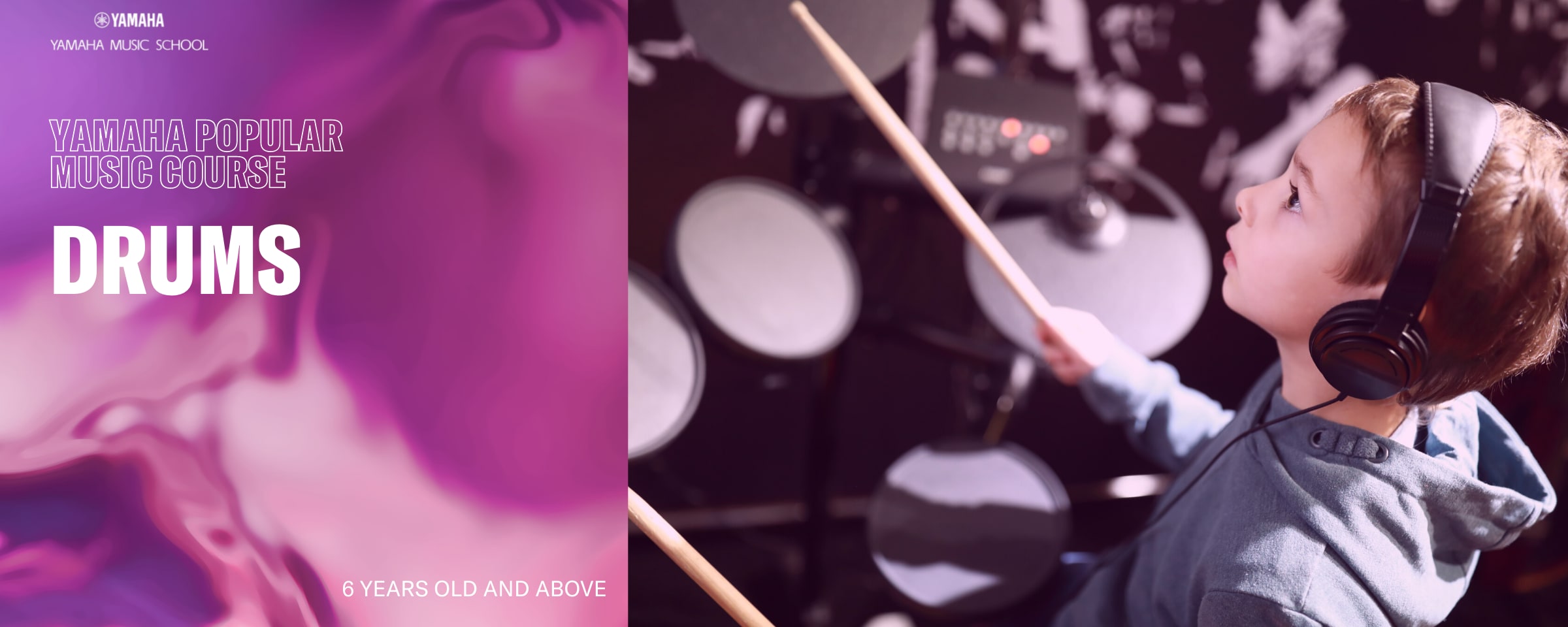 Drums
Age range: 6 years old and above
Cultivates basic playing techniques in drums while letting students experience various popular rhythm styles to find their primary rhythmic and musical fortes. This course is designed for students of various musical tastes and ambitions, thus developing skills beyond just playing techniques.
Learning with structured materials based on proven teaching concepts
Understand fundamental techniques, drills and exercises that consist of these elements: stick control, foot work, coordination and rounding
Getting in tune with rhythm training, drills and exercises that consist of these elements: rhythm pattern, fill-in and syncopation
Develop the hearing ability through listening to the Drums part
Students will experience:
Enjoyable lessons
Easily recognize progression by themselves
Application of exercises to actual music
Course Information:

Class Length

Individual 30 Minutes; Group 60 Minutes

Course Length

3 – 5 years

Parent Participation

Not Required

Class Type

Individual or Group

Assessment Type

Yamaha Drum Grade 10 – 6 Exams /
External Exam Boards

Materials

Textbook and online streaming materials

Cost Per Lesson

From RM 205 per month (group)
From RM 227 per month (individual)
1. Printed Lesson Material + Streaming Audio
Yamaha's unique curriculum has been designed with the philosophy of wanting everyone to enjoy music. Our instruction is based around original curriculum and teaching materials we've developed through more than 60-years' experience. We also offer realistic audio accompaniment developed exclusively for our lessons that you can play along with, like in live performances, and for home practice.
2. Individual, Group and Online Lesson Styles
Our lesson formats are tailored to the course, from group lessons (held with an appropriately small number of students) where you can relax with your fellow students having the same interests and enjoy ensemble playing, as well as individual lessons that progress according to your personal wishes and goals, and online lessons where you can receive instruction without going to the lesson venue (suitable online environment required).
3. Yamaha Grade Examination
Yamaha Grade Examinations help you as a music learner to confirm your musical abilities and encourage you to gain well-rounded musical skills, so that you can fully enjoy creating and performing music.
4. Concert
We hold special presentations and events for each classroom and course as an opportunity for you to demonstrate the skills you've gained in the lessons. The pleasantly tense excitement of the performance and the sense of fulfillment it creates are invaluable.