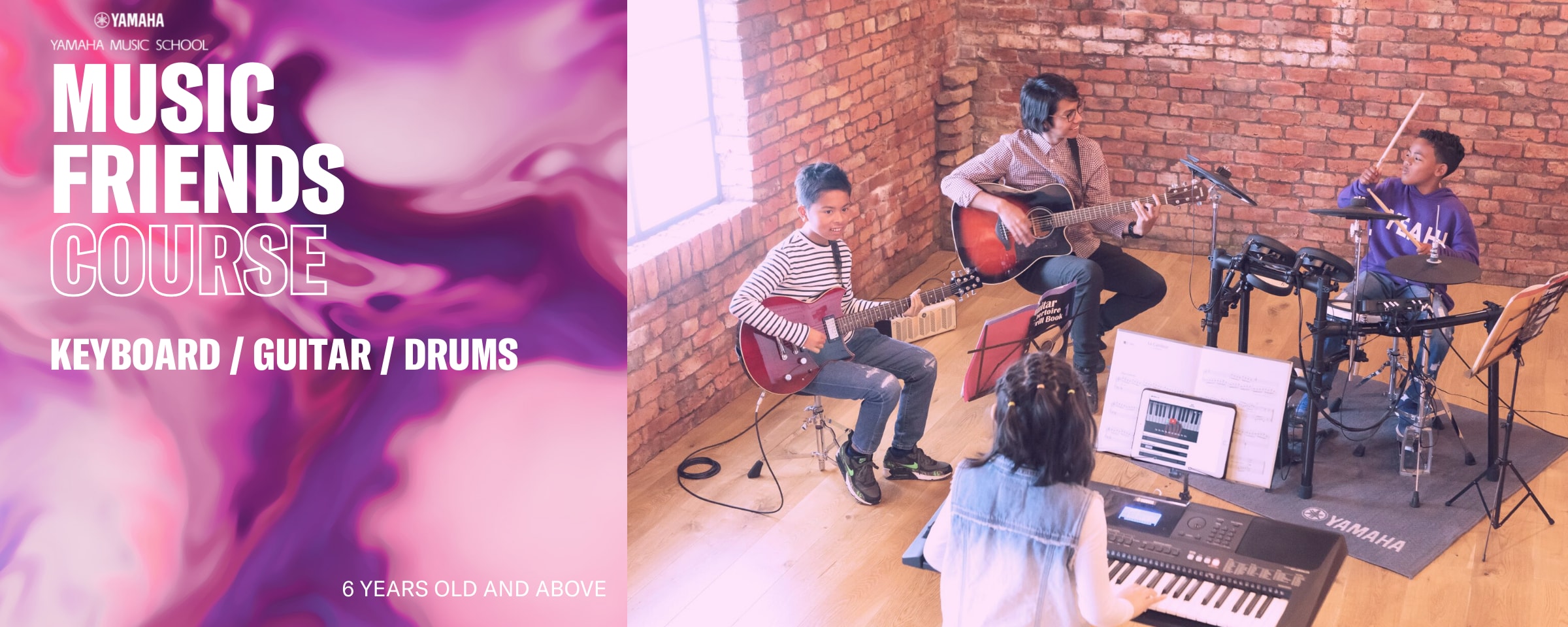 Music Friends Course
Age range: 6 years old and above
Start a Lifetime of Music with a Musical Instrument that You Long to Play
Have you ever been told that music nourishes the heart? Or heard that making music enhances intelligence? It has been scientifically proven that practicing music has a positive influence on the brains and hearts of people. However, children are busy with school and other studies, so that even those who are interested in practicing music may have no time for practice. Moreover, many children and parents worry that musical skills cannot be developed unless the learner starts very young. To ease those apprehensions, Yamaha has started the Music Friends Course, a new program for aged 6 and above.
The Music Friends Course is unique in that it has a combination of both group and individual learning concepts weaved into the lessons. The methodology and concepts allow learners to progress and learn at their own pace, with stress-free lessons. Moreover, students get the full enjoyment and fun of making music together with friends while mastering basic musical skills. The line-up of course subjects designed for this new course embraces the unique education methods, accompanied with well-known pieces rearranged for fun learning. In addition, continually updated supporting materials help further enhance the music learning experience.
Key Benefits:
1. Learning at Your Own Pace

Although the lessons are conducted in a group, each student gets individual attention from the teacher during segments on repertoire playing. This allows them to achieve a learning milestone at their own pace. Students can join the class anytime without worrying about age and feeling felt behind in class.
2. Interesting Pieces to Engage the Student

Textbooks contain a variety of famous pieces. For all pieces, Yamaha adds arrangements and opulent accompaniments, and the experience gained from playing them along with orchestras or bands provides students a special worldview of each piece and nurtures their creativity.
3. Establishing Stronger Foundational Skills in a Group

To further enhance the basic skills developed, students will also experience the joy of playing music together with their friends, an experience unachievable in an individual lesson setting. Through simple finger exercises, ensemble playing and singing melodies, students are effectively trained in acquiring finger technique, good rhythm sense, and singing in a correct pitch.
4. Supporting Self-Learning IT Tools

In the classroom or at home, students can watch and learn through model performances on the videos and practice with rhythmic accompaniment. This tool serves as a great support for individual practice.
Course Information:

Class Length

60 Minutes

Course Length

1 – 2 Years

Parent Participation

Not Required

Class Type

Group-Individual

Assessment Type

No assessment

Materials

Textbook and online streaming materials

Cost

RM138 per month