Teenagers & Adults Program
Teenagers & Adults Program
Teenagers & Adults Program
for 9 years olds and above
Do you yearn to be able to perform the music you love? Or make music a part of your life and career? It's not too late for you to make these dreams come true. At Yamaha Music School, our music education system helps develop healthier, more enriching lifestyles while providing internationally recognised qualifications - an investment that always pays off.
Whether it is the Electone, Guitar or Piano, we have enjoyable and effective courses specially designed for teenagers and adults. Sign up for the New Electone Study Course (NESC). Yamaha Guitar Course (YGC) or the Yamaha Popular Music Course (YPMC) today and start realising your cherished dreams!
New Electone Study Course (NESC)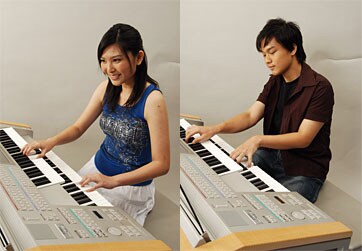 The Electone Organ - popularly know as a ' one man orchestra' - is an amazing musical instrument that makes music come alive with its true-to-life instrument voices (such as the Piano, Flute, Trumpet, Violin) a whole lot of acoustic and electronic sounds, together with Rhythmic and Accompaniment styles from Jazz, Rock and more.
This course fulfills your desire to learn to play musical pieces and provides a proper foundation in music education. Students are taught a whole spectrum of skills from reading ability, playing techniques, rhythm and music appreciation, ensemble playing, chord work to arranging skills. Added emphasis is placed on the elements of repertoire and improvisation. With the Electone's great versatility there's much that students can look forward to in terms of Performance, Improvisation, Arrangement and Composition - in a fun, creative and enjoyable manner!
Lesson Details :
Intake
Monthly
Target
9 years old or older
Format of Lesson
Individual or Group
Lesson Duration
Beginner Level : Individual - 30 min / Group - 60 min
School Fee
Beginner Level RM 193 (Individual)| RM 160 (Group)
-
-
Yamaha Guitar Course (YGC)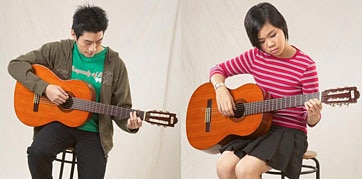 Strumming a guitar and singing adds color and enjoyment to life - as well as guarantees you a spotlight in social get-togethers! Learn to play the guitar in an easy, enjoyable and effective way in this progressively graded course. Apart from acquiring guitar playing techniques, the course cultivates note-reading and ensemble-playing skills.
It begins with an Introduction to Guitar with simple strumming & singing of popular songs. Students than move on to picking up fundamental skills like Basic Plucking Techniques, Rhythm Accompaniment and Melody Play before advancing into a classical course and arrangement techniques. Some techniques in Spanish flamenco is also included together with some popular solos to further spur students' interest. The progress of YGC leads to very high standards in performance whereby students are encouraged to perform in concerts, guitar camps and compete in yearly festivals.
Lesson Details :
Intake
Monthly
Target
6 years old or older
Format of Lesson
Individual or Group
Lesson Duration
Beginner Level : Individual - 30 min / Group - 60 min
School Fee
Beginner Level RM 183 (Individual) | RM 153 (Group)
-
-
Teenagers & Adults Program