Yamaha Popular Music Course
Yamaha Popular Music Course
Yamaha Popular Music School
Yamaha Popular Music Course is all about musicians of all ages making music and enjoying every moment of it !
A Quality Education of International Standing
You are assured of the best teaching methodology and standards, established and maintained by a professional faculty of highly qualified music specialists. Music softwares provided make learning more effective, and at the same time, more enjoyable.
Every "Popular" course is broken down by modules (4-6 months per module) and takes you from elementary, to intermediate, and then advanced level. A 'Certificate of Attendance' will be awarded upon completion of each module and students will then proceed to the next. Students can also have the option to sit for external examination which cater for Popular Music.
Exposure Through Reputable Music Popularisation Events
Practice makes perfect... and nothing gears up musical skills more than a public performance. At Yamaha Music , Band Sessions, Ensemble Concerts, Combo Festivals, Music Workshops by well-known musicians and even International Festivals are all regularly organised to offer further motivation and opportunities for students to develop their talents through adequate exposure.
An Assurance of Years of International Success?
The ultimate proof of appropriateness of the contents and methodology of the Yamaha Music Education System is the demonstration of its results - the generations of Yamaha graduates all over the world who, regardless of economic or cultural background, have developed into well-rounded confident individuals making a mark in the world today.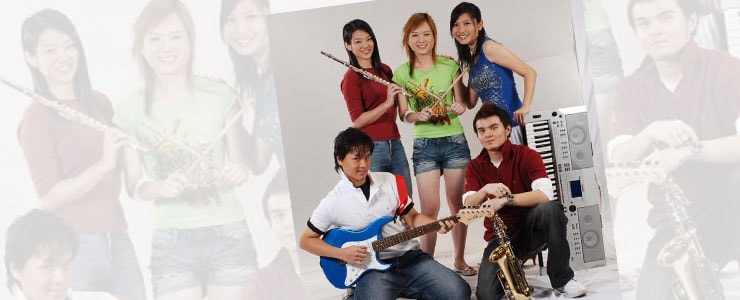 Yamaha Popular Music Course