Biography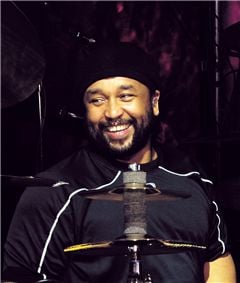 Carter Beauford (born November 2, 1957, in Charlottesville, Virginia) is an American drummer, percussionist, and founding member of Dave Matthews Band. He is known for his ability to adapt to a variety of genres, and both his ambidextrous and his open hand drumming styles. He plays the drums and sings backing vocals in the band. Beauford was ranked by a Rolling Stone magazine reader's poll in 2010 as the tenth greatest drummer of all time.
Carter Beauford grew up in a household full of music. Everything from jazz, gospel, to the Beatles was played.
For Carter Beauford, the drummer, it all started when he was three years old. His father was going to a Buddy Rich concert, but he couldn't find a babysitter for young Carter. His only solution was to take Carter with him. From the moment Carter laid eyes and ears upon Buddy Rich, he was enthralled and fascinated with Rich.
After the concert, the young Carter took up drums and wanted to emulate Buddy Rich. I guess you could call Buddy Rich Carter's idol when he was a young lad. Upon hearing his son's playing, Carter's father was impressed and bought him a Roy Rogers drum kit made with paper heads and tin shells. This was all Carter needed. So, thank Carter's father for bringing this wonderful drummer into the world!
During those young years, Carter's major influences were Tony Williams, Papa Joe Jones, and, of course, Buddy Rich.
Throughout his career, Carter has played with many different bands with various musical styles. Carter feels it is important to have an open mind musically and to expose oneself to different forms of music.
One band, besides the Dave Matthews Band, that Carter is very proud of, was called Secrets. This band played the Richmond, Virginia area and was composed of many talented musicians, including Carter on the drums. After this band dissolved, Carter went to California to try out for the Arsenio Hall show. For whatever reason, the show didn't want Carter, so he moved back to Virginia; which is where the next chapter of his life starts.