Biography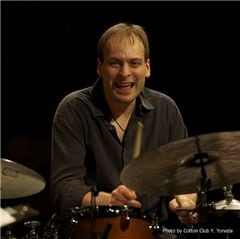 As a drummer, Ari Hoenig's success has been unprecedented. Few have risen so quickly and deservedly into the upper ranks of jazz. Growing up in Philadelphia PA, his parent's influence led Ari through a variety of alternative musical experiences. His father is a conductor and classical singer, his mother a violinist and pianist. Accordingly, at 6 years old, Ari began studying the violin and piano. He began playing drums at age 12 and by age 14, he was honing his skills with other young jazz musicians at Philly clubs such as Ortliebs Jazz Haus.
Ari attended the prestigious University of North Texas for 3 years, where he studied with Ed Soph while playing with the "One O'clock" jazz band. In 1995 the desire to be closer to New York City led Ari to transfer to William Patterson College in northern New Jersey. He soon found himself playing for legendary Philadelphia organist Shirley Scott, and working regularly in New York City.
For the past 6 years, Ari has been a member of the Jean-Michel Pilc trio and the Kenny Werner trio. He has shared the bandstand with the likes of Joe Lovano, Gerry Mulligan, Pat Metheny, Dave Holland and Wynton Marsalis. Today, Ari can also be found playing in the bands of any number of musicians, including Pat Martino, Joshua Redman, Wayne Krantz, Richard Bona, Chris Potter, Kurt Rosenwinkel, The Jazz Mandolin Project and Mike Stern.
Ari has been featured in interviews and articles for Jazz Times, Modern Drummer, Bateria, Citizen Jazz, Philadelpia City Paper, All About Jazz, Philadelphia Weekly, Rim Shot, Drummer, Jazziz, Relix and Downbeat, which included Ari in the article "13 Drummers for the Future." He has toured the world extensively, and has performed on numerous television and radio broadcasts.
Ari is not the typical sideman. He is also a composer, arranger, and pianist/keyboardist. His compositions and arrangements grace the repertoires and recordings of Werner, Pilc, The Jazz Mandolin Project, the R&B Band "Good Results" and Julien Lourau's group, as well as Ari's own quartet. In affiliation with the National Endowment for the Arts, Ari was awarded a "Meet the Composer" grant to perform his compositions with his own group.
The Ari Hoenig Quartet was formed at the end of 2002. The band features Jacques Schwarz-Bart, on Tenor Sax, Jean Michel Pilc on Piano and Johannes Weidenmueller on Bass. The quartet has a weekly Monday night gig at Fat Cat, where they were recently filmed by Arte (French) television for the Documentary "Jazz in New York" and for a concert to be aired separately from the documentary. They also appeared on the show "After Hours" on MSNBC. With international tours taking them to France, Spain, Chicago, Philadelphia and Washington DC, Ari and his band draw strong audiences and critical acclaim wherever they play.
Since 1996, Ari has appeared on nearly sixty recordings as a sideman and three as a leader. 2004 marks the release of his first quartet record "The Painter" on the "Smalls" record Label. Since its release, "The Painter" has received rave reviews in a number of publications including a listing as one of the top 5 records of 2004 by Fanfare magazine. Both of Ari's solo drum CD's, Time Travels (2000), and The Life Of A Day (2002), document his explorative nature; they represent an ambitious tribute to the melodic possibilities of the drum set.
As an educator, Ari teaches at the New School for Social Research and Manhattan School of Music, both in New York. He gives clinics and lectures at music schools and universities worldwide and writes a regular educational column for Modern Drummer magazine. In collaboration with bassist Johannes Weidenmueller, Ari is currently finishing a book about metric modulations (Mel Bay Publishing.)