Live Sound & Event Production
Live Sound & Event Production
Yamaha's prolific history as an industry leader in professional audio initially started with the primary objective of simply amplifying musical performances for growing audience sizes. In the 50 years since, Yamaha has continued to evolve to meet the demands of the ever-expanding world of live sound reinforcement, providing innovative, large-scale live audio solutions for renowned artists around the globe. From mixers and amplifiers to speakers and effectors, Yamaha has been developing high-end audio products for decades–initially with a focus on analog gear before shifting focus to primarily digital systems. Today, Yamaha's innovative digital signal processing and network technologies combined with our trademark ease of operation, durability, and most of all, superior sound quality, make our live audio solutions and related products the obvious choice for professionals around the world that want to get the absolute best out of their PA system.
A foundation of sound
At Yamaha we believe that good sound should clearly convey an artist's full range of expression and inspire their audience. Our sound philosophy is centered on capturing the most pure, uncolored reproduction of a vocal or instrument performance to use as a starting point. This serves as the foundation for engineers to build upon and add their signature style using the state-of-the-art DSP tools and effects of our versatile mixing consoles.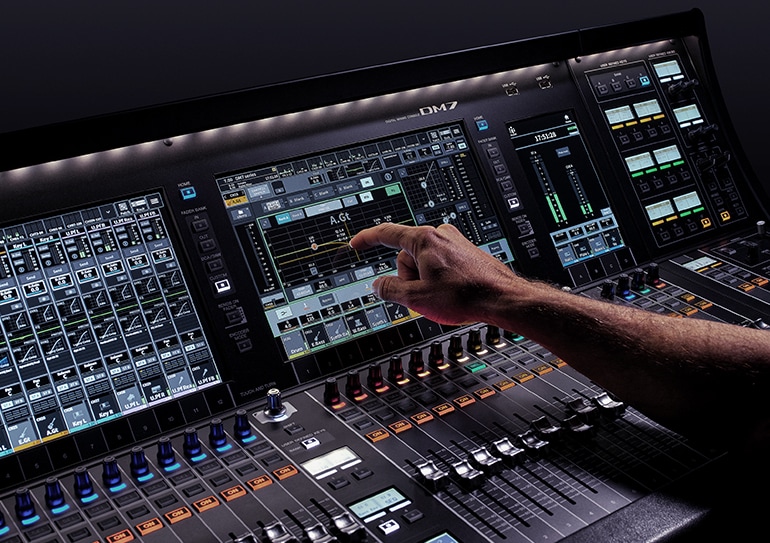 Stress-free operation
Yamaha audio products are held in high regard amongst audio professionals the world over for a number of reasons. Among the most significant are their intuitive operation, and the well-thought-out geography of their design. Even users with little-to-no engineering experience can often use Yamaha equipment right out of the box— a testament to their user-friendly design and the careful consideration that goes into it.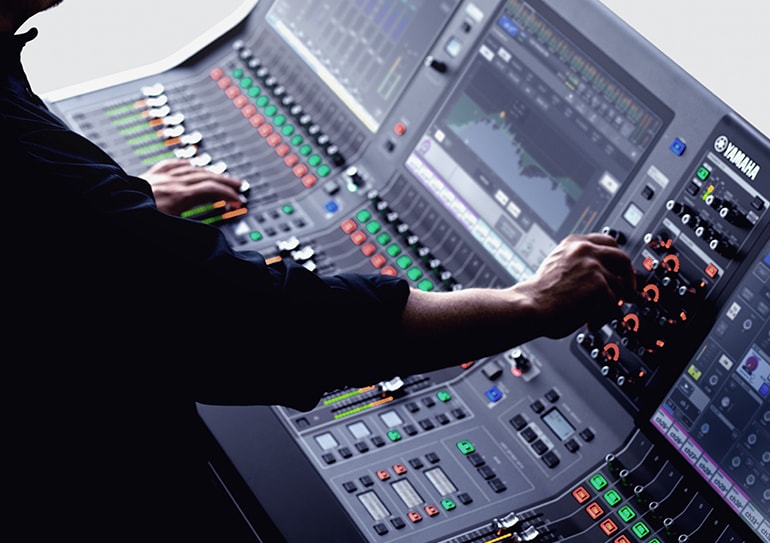 Unrivaled reliability
Safe, stress-free usage of our professional audio gear has been a top priority for over 50 years. At Yamaha, we understand that system failure is simply not an option for live performances, and equipment reliability can sometimes make or break an event. Always conscious of this, we've equipped our products with crucial safety and protection features to protect the high-quality components encased in durable, road-tested cases and enclosures. As a result, Yamaha has garnered a reputation worldwide as an industry leader for reliable system performance in critical live performance environments.
Live Music (Large)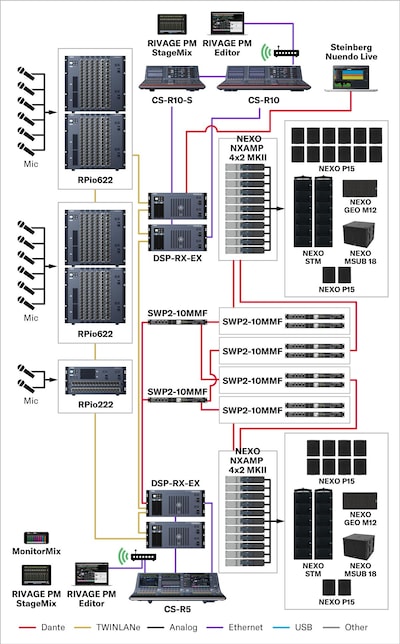 This system is designed for large outdoor concert performances with seating for more than 5,000 people. A high-quality, high-output loudspeaker system delivers clear, consistent sound from the front row to the rear of the venue via a mixing system with 288 channels of inputs that can accommodate even the largest of bands and orchestras. The system is not only superior in sound quality and functionality, but also features a user-friendly UI as well as system redundancy for reliable support of sizable performances and events where system errors are not an option.
Live Music (Medium)
This system is suitable for live concerts in outdoor venues for up to several thousand people. A compact yet powerful mixing console capable of sophisticated, large-scale setups combines with high-quality speakers capable of output levels that bely their diminutive size and weight to deliver clear, consistent, and powerful sound to the entire audience. System configuration, routing, and connectivity is simplified significantly through the use of an audio network which enables operation by a small number of people and reduces the time and labor required for system set up and tear down.
Live Music (Small)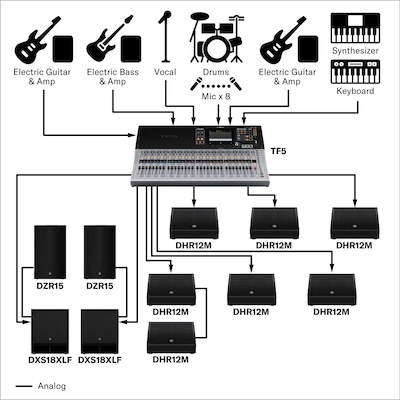 This temporary sound reinforcement system is suitable for concerts or events for audiences of up to several hundred people. The Yamaha Group offers an extensive lineup of compact yet powerful and multifunctional products for setups such as these, and can provide reliable, high-performance solutions in accordance to a range of space, budget, and application requirements.
Live Event (Medium)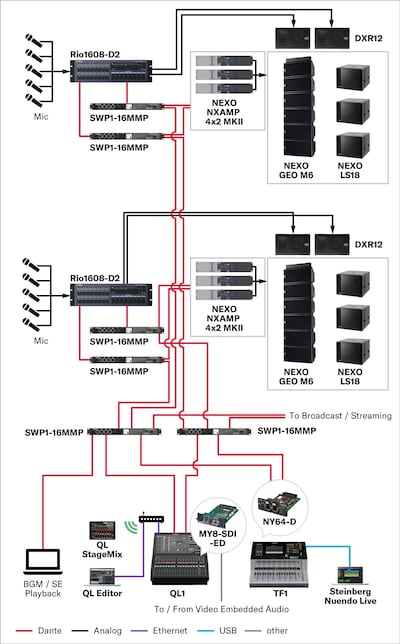 This system is suitable for large corporate events and gatherings in spaces such as convention center halls. The compact speaker system delivers high-quality sound to every corner of the space without obstructing views of visual presentations utilizing screens or monitors. Mixing microphones using the auto-mixer function makes it possible for system operators with little, or even no audio engineering experience to dial in a clear and comfortable sound for everyone in attendance. Mixing in audio signals from video equipment is also supported.
Live Event (Small)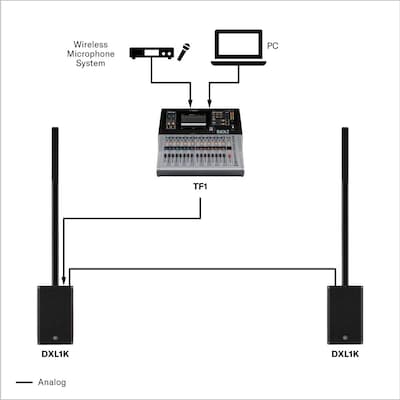 This portable system is suitable for small-scale events such as corporate seminars and meetings in conference rooms or multipurpose spaces in convention centers. Despite its compact size, simple setup, and ease of operation, this system is capable of delivering clear, high-quality sound throughout an impressive coverage area, giving event organizers a stressfree, unobtrusive solution ideal for applications of this scale.
Portable Live Sound (Small)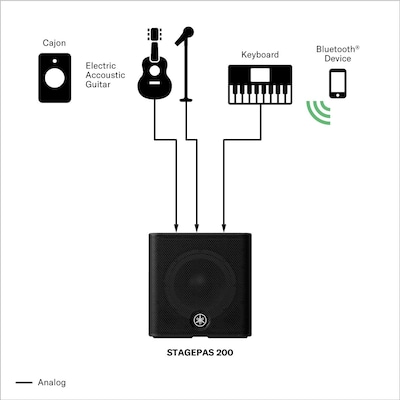 Yamaha offers a diverse and extensive lineup of sound reinforcement products for applications in smaller-scale environments, from all-in-one portable PA systems to compact mixers and speakers that allow flexible system construction in accordance with your application and budget. For each stage of realizing your sound reinforcement objectives, we make it easy to configure, set up, and operate a portable PA system that best suits your needs.
Live Sound & Event Production