Biography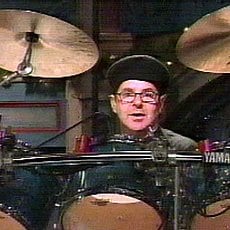 On the Letterman show Anton and the CBS Orchestra have accompanied a fantastic number and variety of musical guests, including Miles Davis, James Brown, Bruce Springsteen, Stevie Winwood, Bonnie Raitt and Tony Bennett. Away from the Letterman show the orchestra has also appeared at occasional prestigious events backing artists such as Stevie Wonder, Faith Hill, Little Richard, BB King, Al Green, Gloria Estefan, In Sync, David Bowie, Mick Jagger and Keith Richards, Eric Clapton and Buddy Guy, Macy Gray and James Taylor. The orchestra is also the regular house band for the Rock and Roll Hall of Fame.
Between times Anton's session work has included recording with Bob Dylan, Mick Jagger, Kiss, Cyndi Lauper, Madonna, Gary Moore, Spider, Ace Frehley, Rosanne Cash, Joe Cocker, Warren Zevon and Paul Butterfield. Live work has included performances with Paul Simon, Booker T and the MGs, The Thompson Twins at Live Aid, and alongside fellow drummer Jim Keltner for Bob Dylan's 30th Anniversary concert celebration.
This year Anton has finally released his first solo CD entitled "Figments". The record was three years in the making, with Anton taking on production and co-writing duties as well as drumming. The album reflects Anton's diverse musical tastes and wide choice of musical guests, with material ranging from Heavy Metal to the more subtle grooves of Anton's native South Africa.
Anton's vibrant, outgoing personality and his totally committed live drumming also make his educational videos, "In The Groove" and "Late Night Drumming", essential viewing.