High Performance Floorstanding Speaker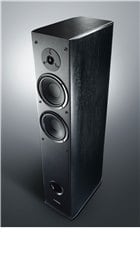 The NS-F160 has an impressive appearance that it matches with outstanding audio reproduction qualities. With a two-way, three-speaker design and a thick cabinet, it provides rich bass with natural vocals and dialogue. Due to the use of a superior speaker unit, it achieves excellent response and clarity throughout the entire range.
Large, Gold-Plated Terminals with Bi-Wiring Connectivity

The extra-large, screw-type terminals are gold plated to ensure maximum signal transmission efficiency. Signal integrity is further improved by bi-wiring capability that provides separate +/– (tweeter and woofer) connection. This results in lower modulation distortion for more distinct bass and trebles.
Side Panels with Elegant Rounded Edges
The side panels, available in black or rosewood, provide a suave and sophisticated appearance, which is enhanced by rounded front and rear edges.
Stand Provide a Refined Look

Another element that sets the NS-F160 apart from ordinary speakers is the support stand. This ensures the stability that powerful bass output demands, and also gives it a distinctive appearance worthy of a high performance speaker.
Choice of Two Colours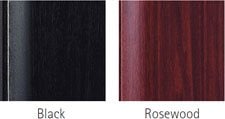 The speakers are beautifully finished and are available in a choice of two colours: the natural look of Rosewood, and Black to match many TV monitors and interiors.