MTX/MRX series and XMV series now upgraded to Version 3.2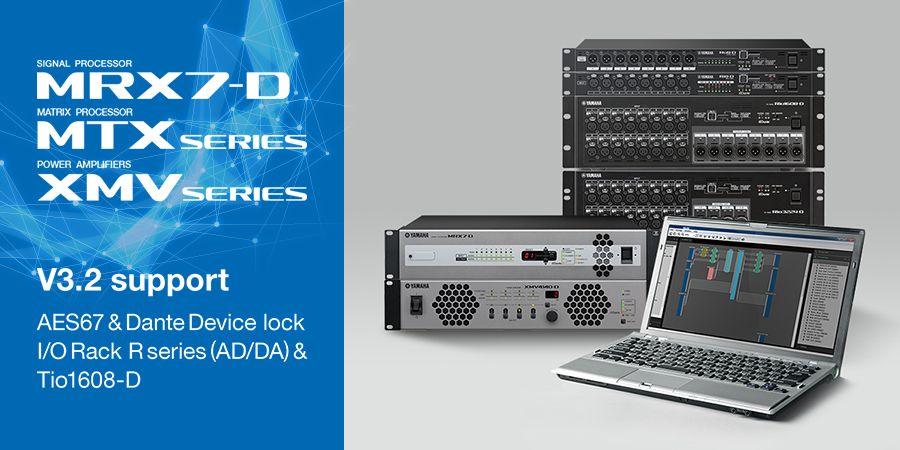 December 27, 2017. Shizuoka, Japan– Yamaha has announced the launch of Version 3.2 that deliver improved connectivity, expandability, and ease of use for our MTX/MRX Series signal processors and XMV series Power amplifiers.
Support for AES67 and Dante Device Lock

Dante-enabled models of the MTX/MRX series signal processors and the XMV series of power amplifiers now support the AES67 audio network interconnection standard. This allows connection via AES67 to audio networks such as Ravenna, Q-LAN, or Livewire, increasing the expandability of the system. Also supported is Dante Device Lock, which prevents a third party from modifying Dante settings. This can increase system security in environments such as concert halls where an outside operator is expected to operate the system or bring in equipment.
Control R Series (AD/DA) or Tio1608-D I/O racks
The MTX/MRX system now supports controlling the R series(AD/DA) and Tio1608-D I/O racks. In an installed system, using Dante for connections all the way to the end of the audio inputs and outputs will allow the audio inputs and outputs to be dispersed and located at a long distance, making system design more flexible and improving the convenience of operation.
New functions and new components added
New components have been added to expand the functional potential of the MTX/MRX series signal processors, and new functions have been added to shorten the time required for design and installation.
For example, even if an MTX/MRX system is constructed with separate subnets for each floor, they can be managed in a centralized way. In addition, the following functions have been added to improve usability when designing and installing the system.
- Added display mode for high-resolution monitors (show at double size)
- Added new MRX7-D components (Audio Detector, Summer)
- Added two models to the SP library (VXS1ML / VXS3S)
- Added Matrix Out Fader(MTX Series)
Yamaha pro audio business unit director Yoshi Tsugawa comments
Connectivity and interoperability between devices is becoming increasingly important today. The version 3.2 update is focused mainly on expanded interoperability with AES67 compatible devices. The MTX/MRX/XMV series allows flexible implementation of a sound system that meets the scale, applications, and environment that are required for commercial spaces; we developed this update in the hope that it will allow these units to have an even wider field of use, and in order to provide good tools for the customer to design their system.