Biography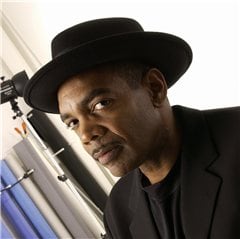 Gerry Brown – Serving The Music
Gerry Brown musical journey's have culminated in extended musical relationships with legendary artists. His musical journey started with fellow school mate Stanley Clarke who introduces Gerry as a "Master Drummer" and the "first musician I ever played with!". Gerry along with Stanley crafted the revolutionary 'School Days' recording which it's influences continues to inspire Drummers and Bassist's worldwide.
Gerry Brown also holds the distinction of holding the drum chair for the legendary Stevie Wonder for the past 14 years. Recently returning from SRO appearances in Switzerland it is still evident that the popularity of Stevie Wonder continues to influence and entertain audiences around the world.
Gerry's versatile and musical objective point of views leads him to 'Serve the Music.' His long list of acomplishments has landed him on stages and recording studios with George Benson, Marcus Miller, Lionel Ritchie, John Lee, Sonny Fortune, Alfonso Johnson and Phillip Bailey. He also has worked with the NDR Big Band , Brothers Johnson, Roberta Flack, Joe Sample, Slide Hampton, Tom Harrell, Larry Coryell, Dave Samuels, Chuck Loeb and Chick Corea.
Gerry is presently residing in Los Angeles, CA. and continues to be a driving force in today's industry. His first instructional Drum Video "R & B Drumming with Gerry Brown" was released to critical acclaim by numerous music publications. Gerry's insight as an educator and performer has established him as a sought after clinician for Yamaha Drums, Zildjian Cymbals & Drumsticks and Evans Drumheads.
Gerry is currently touring with Stevie Wonder, Stanley Clarke, Diana Ross and Jeffrey Osborne.