Biography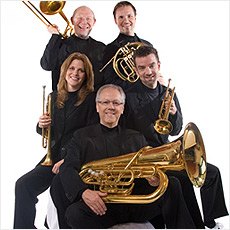 The five virtuosi of Canadian Brass consists of Joe Burgstaller, trumpet; Ryan Anthony, trumpet; Jeff Nelsen, French horn; Gene Watts, trombone; and Chuck Daellenbach on tuba. The group has a long history of recording classical repertoire. They have a special affinity for Baroque music, which requires the brilliance and musical structure that has become the Canadian Brass' trademark.
Their more than 50 recordings to date include works by Purcell, Vivaldi, Gabrieli, Pachelbel, Beethoven and Wagner — all in meticulously crafted transcriptions that are setting new musical traditions in brass performance. They are especially drawn to the works of J.S. Bach. The recently recorded Goldberg Variations on the RCA Victor label is a fortuitous match. Bach's Toccata and Fugue in D minor has been recorded by Canadian Brass several times and is perhaps their most popular concert work.
The "fabulous five" spend most of their time on tour, and have performed with many major symphony orchestras in the US, Canada, Europe and Japan. They have gained a large international following of their solo performances that offer a large variety of musical styles.
Millions of television viewers have seen the Canadian Brass in such shows as The Tonight Show, Today, and Entertainment Tonight. They have appeared as guest artists on Evening at Pops with John Williams and the Boston Pops, Beverly Sills' Music Around the World, and numerous PBS specials. The quintet has also created eight videos that have gained an international audience.