Biography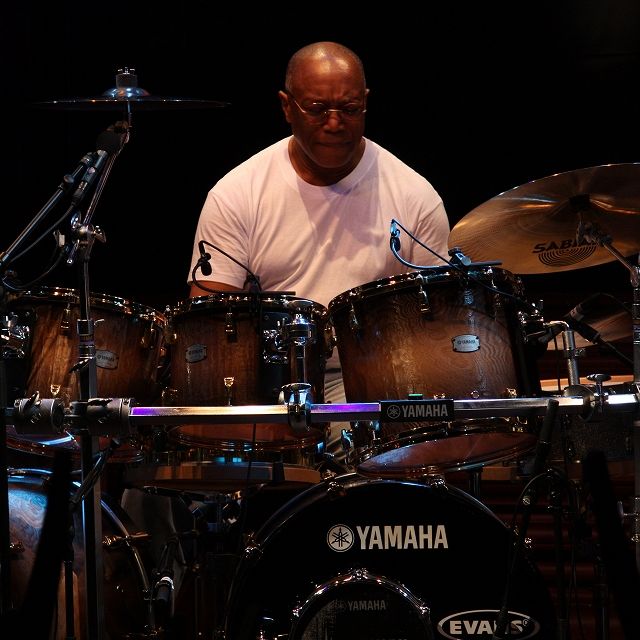 Only a few times in history has a musician been singled out as the world class master of his instrument. Billy Cobham is one of those few artists. For over 30 years, he has received international acclaim as the total consummate percussionist.
The legendary Billy Cobham, with his matchless, dazzling, ambidextrous skills as a drummer, has applied the same insistent fervor to his long list of monumental achievements. He's an accomplished composer and record producer.
He has performed on hundreds of records with his own groups and with some of the music's most luminary artists, and his trademark - biggest, fastest, explosive drumming - has energized the international stages of concerts, symphonies, big bands, Broadway, festivals, television and video. He has been a teacher of his artistry, giving drum clinics, conducting workshops and symposiums throughout the world. His stylistic influence, which has literally created a category of music, is an outstanding part of the history of modern music.
Since 1980 Billy Cobham has been dividing his time between his home in Zurich and the United States, underscoring his unique internationally influenced origins as a musician. Born 5/16/44 in Panama, surrounded by talented parents and a brother, Wayne (producer, horn player, midi specialist, writer), Billy's love for drums was kindled by his cousins who played and constructed steel drums and congas in Panama. Some of his earliest memories are of himself playing Timbales.
The Cobhams moved to New York City in 1947, when Billy was 3 years old. He had his stage debut in performance with his father at the age of 8. Cobham developed his seriously voracious appetite for drumming in the highly competitive Drum and Bugle Corps. Arena with St. Catherine's Queensmen, prompting him to attend New York's famed High School of Music and Art to study music theory and drum technique with seminars by such renowned talents as Thelonious Monk and Stan Getz. Cobham remembers "In those days, Jazz was a bit off-limits to students. Classical music was more preferred by the education establishment. So, of course students craved to meet jazz artists".
Miles Davis was the most talked about personality of the time and had the best musicians working with him. "We'd listen to him and analyze, as we did with other professionals. But in those days, all roads did lead to Miles." He was the goal to shoot for because he had a knack for putting the right components together (musicians and music) to convey the ultimate message through Jazz.
When one looks at Billy's credentials (Miles Davis, Mahavishnu Orchestra, George Duke, Peter Gabriel and many more) it is easy to see he has been one of those important component in many musical situations.
His contributions to music are legendary and still growing. Yamaha Drums is very proud to have Billy as an artist and family member.