Flexible solutions you can rely on for consistently successful events
At corporate events, fan meet-and-greets, and trade shows that can make or break a business, high-quality sound is essential for building excitement with music and sound effects and ensuring your message is conveyed to the crowd with clarity and assurance. The audio equipment supporting such events must not only sound good, it also has to be very reliable to make sure events run smoothly without interruption or technical difficulties. For over a half century, Yamaha has provided audio solutions that meet the rigorous demands of live production so we understand all the critical elements required to make live event audio work, from ease of use and a simple setup, to flexible functionality and expandability. Our digital mixers and processors are renowned for their outstanding sound and performance, and enjoy overwhelming support in the market, as well as winning unwavering praise for their outstanding reliability and durability. Streaming audio at hybrid events is another strong suit. We've factored in every scenario and covered all the bases to help you create an ideal audio environment for any venue.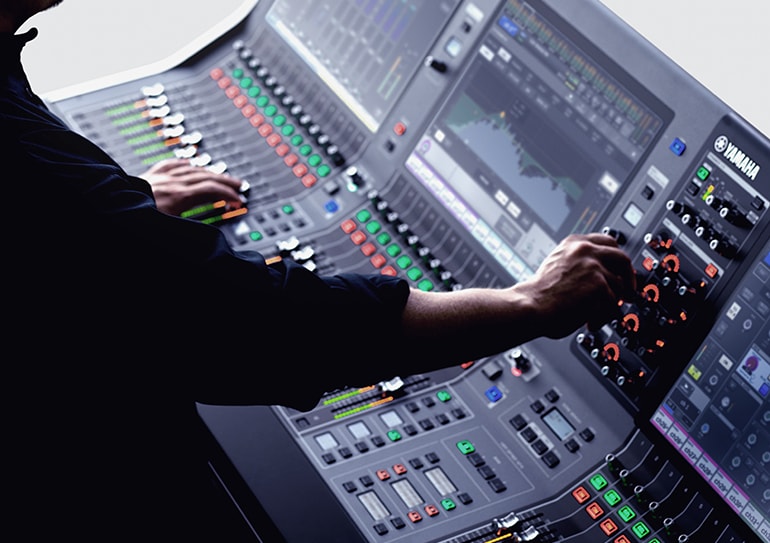 Worry-free system operation
At Yamaha our commercial audio gear is all developed around a philosophy of smooth system operation free from complication and error— a crucial concept that is essential to holding any event. In addition to proven product reliability, Yamaha audio solutions are much easier to set up and operate than you would expect, and come equipped with backup functionality with duplicate power sources and audio channels, so you can use them worry free in the demanding field of live sound.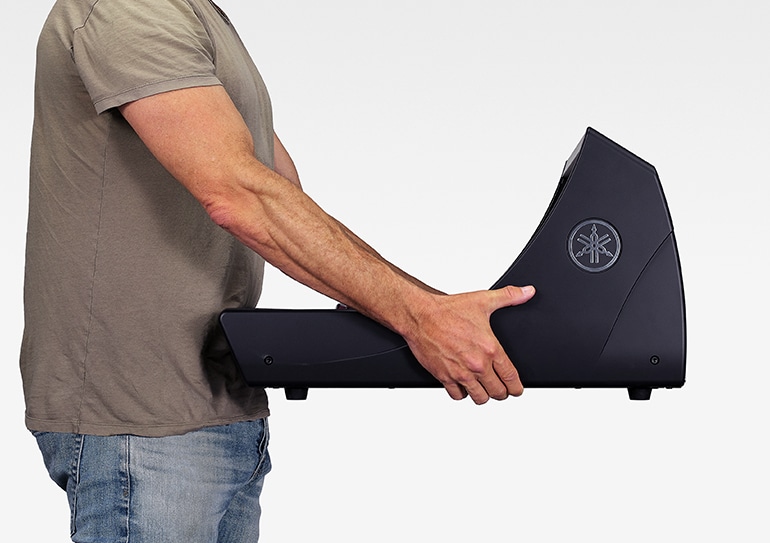 Compact, multifunctional solutions that meet a wide range of needs
Compact size, multifunctional capability, and ease of setup are all important factors for sound systems in live event venues. Yamaha commercial audio equipment allows you to set up advanced audio systems in a limited space, and our flexible, portable solutions also offer a significant advantage for system tear down, transportation, and storage.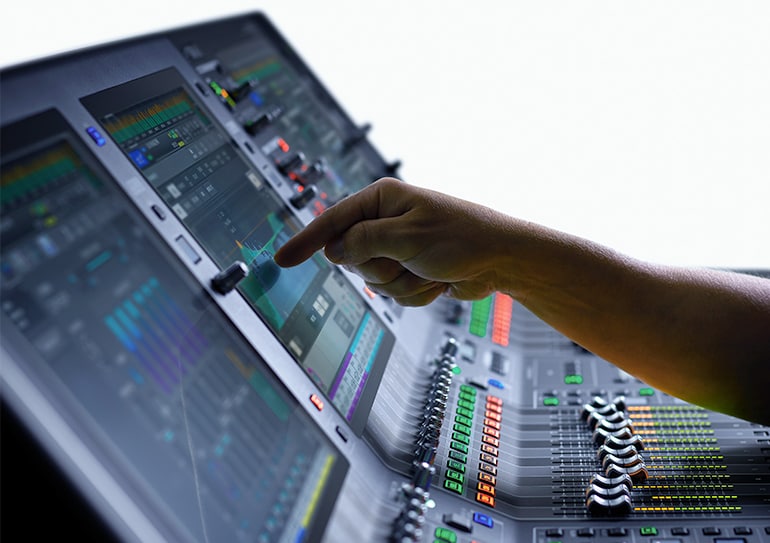 Our renowned usability is common knowledge in the industry
Yet another strong suit of Yamaha's commercial audio equipment is its ease of use, which has won the loyal support of sound engineers who know that any event with Yamaha will be a stress free affair.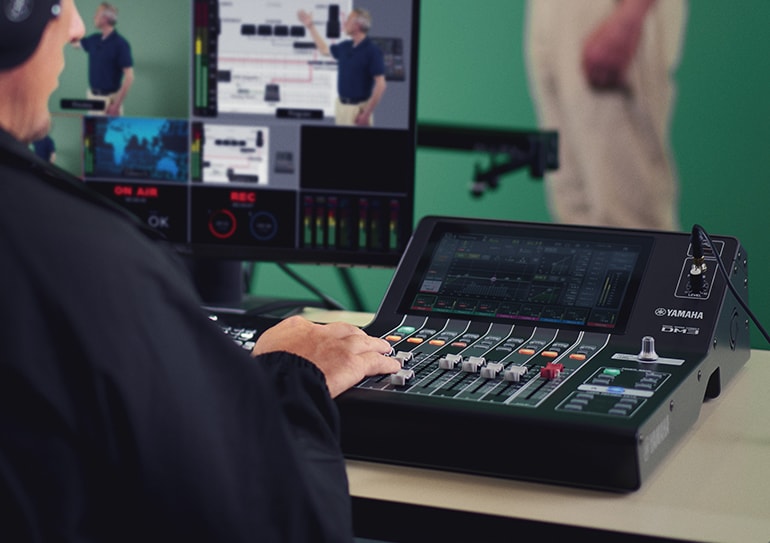 Full support for hybrid events
Events that combine in-person performances with live streaming, commonly known as "hybrid events", have dramatically increased in popularity due to rapidly changing lifestyles. Yamaha mixers and processors come equipped with highly flexible audio routing and streaming functions ideal for users that want to take their hybrid event audio to the next.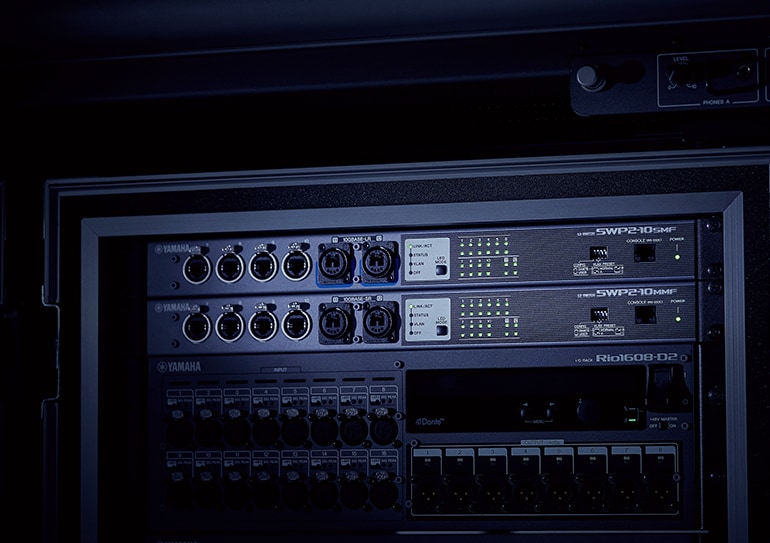 The industry leader in audio networking
Audio networking is essential for complex audio systems at events. Yamaha was among the first to adopt the Dante networking protocol, the industry standard in audio networking technology. We offer a range of Dante-equipped products that make it easy to connect Yamaha products to each other as well as to Dante-compatible equipment from other companies. You can even control and monitor wireless microphones from a digital mixer and carry out all operations from a single location thanks to the minimized connectivity Dante affords.
1. Live Event (Medium)
NEXO's GEO M6 compact line array speakers feature a highly flexible design that allows them to deliver their clear, powerful sound without obstructing the view of screens or displays. A Yamaha DXR12 powered loudspeaker serves as the stage monitor, minimizing setup and space requirements with its versatile enclosure design and significant power output. QL series consoles handle the mixing duties for this setup, equipped with Dugan Automixer which automatically sets the ideal volume for multiple microphones— an essential function for event PA. TF series consoles equipped with a Dante card can also be used to create mixes for streaming with no loss of sound quality.
2. Live Event (Small)
For speech-oriented applications such as corporate seminars, it is important to select a PA system that not only projects speaker's voices clearly and consistently throughout the space, but can also be operated smoothly and confidently by users with little to no audio engineering experience. Another factor to consider is the size and aesthetic of the system, particularly for presentations where screens or displays are used and excessive audio gear could potentially block the audience's line of sight.
Yamaha's TF1 digital mixer is a compact, lightweight, and multifunctional console, with an intuitive, user-friendly UI for stress-free operation. It also features an automatic mixer function that automatically optimizes natural volume control while suppressing feedback to provide a comfortable listening experience and operating environment. The DXL1K column-type powered speakers minimize the floor space of the PA system with their ultra-slim design, while the line array effect ensures consistent and clear sound throughout the entire coverage area.