Distributed Audio & Public Address
Distributed Audio & Public Address
Background music played through a high-quality audio system can be a crucial factor in determining a commercial space's brand, and ultimately, its success. Not only creating an atmosphere that complements the style, architecture, and function of an environment, high-quality background music can lessen unpleasant environmental noise such as conversations from nearby tables or staff operating machinery, thus encouraging customers to lengthen their visit and return for repeat business. Yamaha has developed a unique sensibility from developing a wide range of professional and home audio products, as well as an impressive depth of musical instrument lineups, that gives us the knowledge, experience, and craftsmanship to make sound systems and speakers that are perfectly suited to music-based applications that require comfortable, high-quality sound reproduction.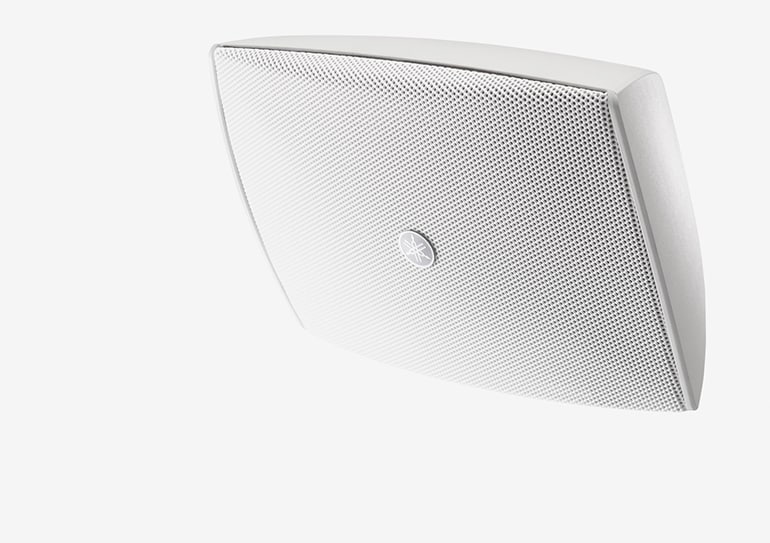 Compact high-quality speakers that complement their surroundings
Audio equipment that serves to enhance activities such as traveling and eating out shouldn't interfere with the atmosphere or customers' experiences in a space. Yamaha has adopted a uniquely utilitarian approach to speaker design that derives its aesthetic from the functionality of the speaker's construction so that every curve and corner serves a purpose sonically and stylistically. Their sound reflects the unparalleled musical sensibility Yamaha has acquired over numerous decades of manufacturing industry-leading instruments, producing a uniquely appealing soundscape.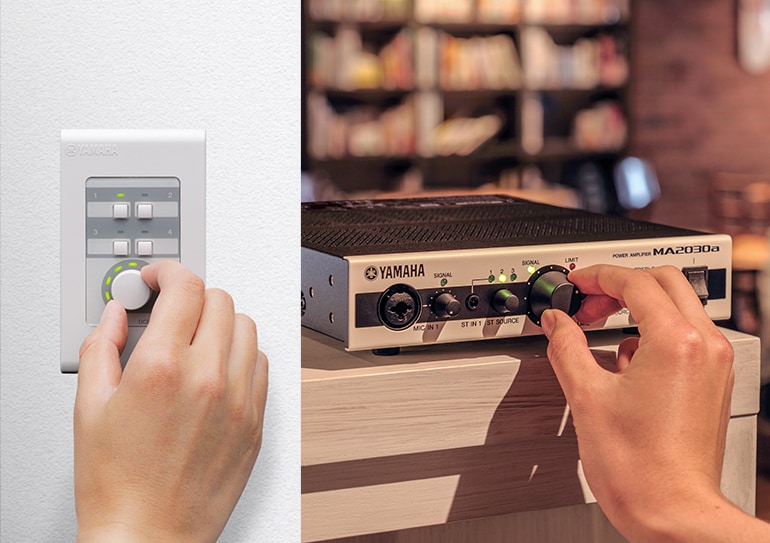 Compact power amp with intuitive interface and comprehensive functionality
System ease of use is an important consideration to ensure stress-free operation that won't negatively add to staff workload. This all-in-one power amplifier is equipped with a volume knob and other controls that are easy to see and adjust, as well as a microphone input for announcements, and an input for audio devices playing background music. Convenient onboard functions such as a leveler and ducker help to simplify volume control while EQ setting presets optimized for Yamaha speakers make system setup and dialing in that perfect sound easy for inexperienced operators.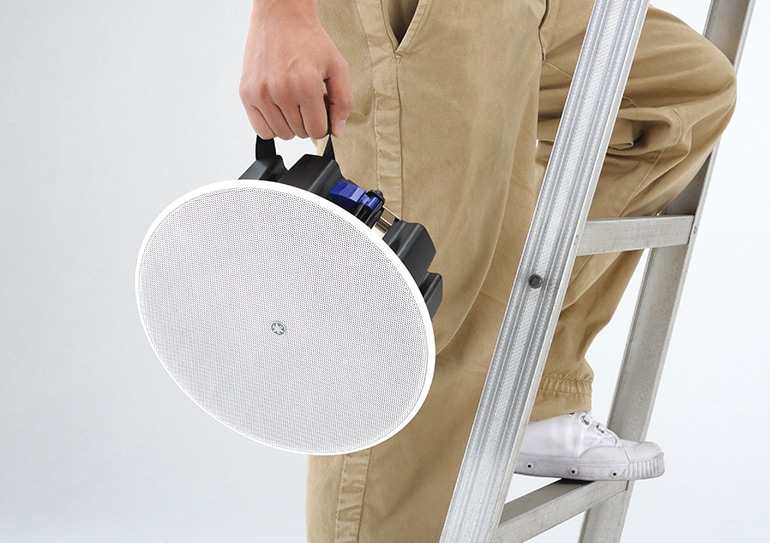 Easy to install and set up
Yamaha audio equipment is designed to be safe and easy to set up, and minimize the workload required for installation. And thanks to our product's flexible design and wide range of dedicated brackets and adapters, our products can be installed in ceilings or walls to suit the interior of a room. Some products in our lineups are also highly water resistant, making them ideal for a wider range of locations including outdoor environments.
Single-Zone Background Music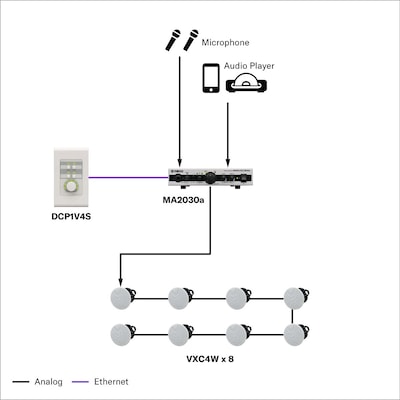 The MA2030a compact power amplifier is connected to microphones for events and announcements in addition to background music sources.
If the area is large, more speakers can be connected by adding a PA2030a amplifier for expansion from the same series. The volume controls of the two amplifiers can be interlocked, so the overall volume level can be controlled with a single operation.
The MA2030a can be operated using the knobs on the MA2030a itself, but the DCP1V4S wall-mounted controller provides even greater ease of operation.
2-Zone Background Music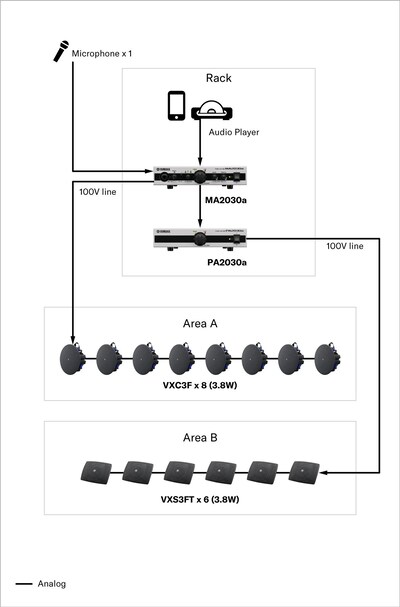 When an area is divided into two zones, separate volume settings can be made for each zone by turning off the volume linkage between the MA2030a power amplifier and the PA2030a expansion amplifier. This allows customers to listen to background music at the optimum volume both in a quiet room and in a noisy area such as a terrace.
3-Zone Background Music + Public Announcement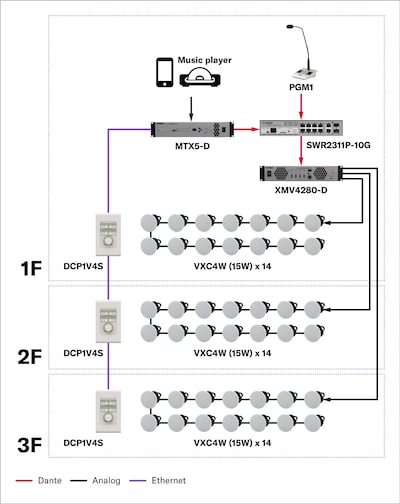 If the area is spread over more zones, or if there are more speakers per zone, use the XMV series of higher output multi-channel power amplifiers. This allows a single system to complete a large institutional store or shopping mall.
The MTX5-D digital signal processor and PGM1 paging microphone are used for in-pavilion broadcasts.
Background Music + Speech Privacy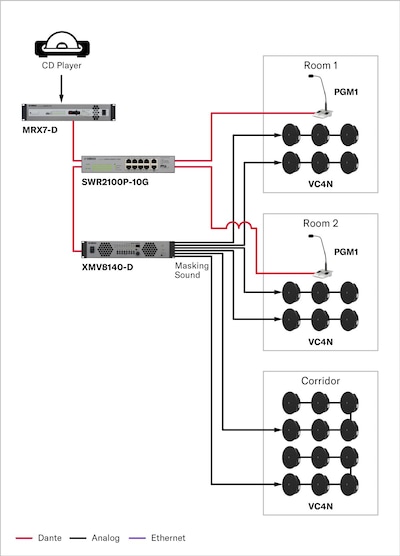 The MRX7-D signal processor plays masking audio from the speech privacy system. The VC4N ceiling speaker is used for background music playback as well as masking audio playback. The VC4N is a compact, low-profile speaker that delivers natural sound characteristics suitable for music playback.
Distributed Audio & Public Address