MONTAGE OS V3.5
Sound
MONTAGE OS v3.5 adds 32 new Performances focusing on the newly added FM-X Smart Morph feature. With more content, expanded synthesis capabilities and compatibility enhancements, MONTAGE OS v3.5 introduces a new dimension to sound creation.
Smart Morph
Smart Morph is a new feature for morphing FM-X sounds.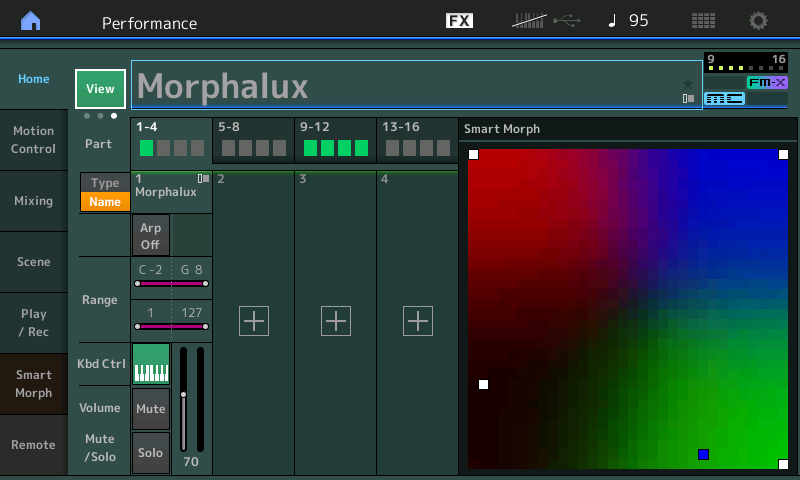 A sophisticated A.I. algorithm "learns" FM-X sounds assigned to Parts 9 to 16 and plots each sound as a point on a visual control map.FM parameters are assigned to three color coded points designated as "Red", "Green" and "Blue" and then touching "Learn". The algorithm then creates interpolated FM-X sounds from Parts 9-16 and the results of the Smart Morph appear in Part 1.
Points are able to be directly drawn on the touchscreen within the new Smart Morph control map. Assigning motion between any two points to control with the Super Knob for expressive morphing the FM-X sound is also possible. Smart Morph is a powerful tool for creating new FM-X sounds.
New Performances
MONTAGE OS v3.5 adds 32 new Performances all highlighting the new Smart Morph feature. Created by an international team of top sound designers, these Performances offer lots of unique variation possibilities with Smart Morph.
MONTAGE/MODX Compatibility Enhancements
MODX has been able to load MONTAGE User (.X7U) and Library (.X7L) files. Now with MONTAGE OS v3.5, MONTAGE can now load MODX User (.X8U) and Library (.X8L) files. Leave MONTAGE in the studio, take MODX on the road (or visa versa), and be reissured that MONTAGE and MODX can now freely exchange User and Library files with ease.
Control
MONTAGE and MODX have always been control-friendly and each OS update adds more control possibilities.
Tap Tempo assign to FS2
Foot Switch assignments are globally set under [UTILITY]/Settings/MIDI I/O. Here, MIDI control numbers and hardware-specific controls can be assigned: Arp Switch On/Off, MS (Motion Sequence) Switch On/, Sequencer Play/Stop, Live Set +, Live Set – and Octave Reset. With MONTAGE OS v3.5, Tap Tempo is added. This is a nice feature for live performance - making it easy to control the tempo of the Pattern Sequencer or set a tempo delay effect to sync with a live band, all hands-free.
Workflow
New features expand Pattern Sequencer workflow and creative options.
New Sequencer Features
Snappier Operation: The Pattern Sequencer is faster and more precise overall. Everything feels better!
Add Parts during Record or Playback: Select instruments while recording for uninterrupted creativity.
Overdub Controllers: MONTAGE OS v3.5 adds real-time overdubbing to record your Controller actions while deleting previous Controller events. This is especially useful for adding or replacing Super Knob movements into the Pattern. Don't like the Super Knob motion you recorded into the track? Just overdub a new one. It's just that simple.
Normalize PlayFX by Scene: PlayFX let you customize the feel of a track. Once you get a feel you like, you can write those changes (Normalize) directly to the track. Before MONTAGE OS v3.5, Normalize applied to all Scenes in a Pattern. Now you can Normalize Play FX on a Scene-by-Scene basis. This is great for comparing or evolving grooves as part of a composition or performance.
Improved Pattern Chain: Pattern Chain is a way to create songs and arrangements from Pattern Scenes. Once you create your Pattern Scenes, you can determine the playback order and repeats. The new MONTAGE OS v3.5 feature lets you store the Pattern Chain with the Performance. You can also switch Pattern Chain on or off directly for Pattern or Linear playback.
Undo on all Screens: "Undo" is available on the main screen, Overview screen and on all the Pattern Edit/Job screens. This greatly improves workflow.
New Edit Jobs
Erase Specific Events: Remove specific events from your track with MONTAGE OS v3.5. The Erase Event Job "Event Type" allows you to erase specific events like aftertouch, pitch bend, system exclusive, continuous controllers and more.
Get Phrase All: Get Phrase Job lets you move sections of a MIDI file into a Pattern Track. MONTAGE OS v3.5 adds the ability to get ALL tracks in addition to individual tracks.
Change Parameters via graphics
There are some nice [UTILITY]/Settings UI enhancements that speed up workflow:
Quick Setup: Touching directly on the "Local Control" switch graphic turns local control on or off. Touching on the "USB Volume" encoder icon switches directly to the Audio I/O/USB Volume control adjustment. Touching on either of the "Monitor Volume" Main or Assign encoder icons switches directly to the Performance Edit/Common/Audio/USB Monitor control adjustment for that Performance.
Audio I/O: Same functionality as listed above in Quick Setup for both USB Volume and Monitor Volume Main and Assign.
MIDI I/O: Same Functionality as listed above in Quick Setup for Local Control.
For more details, check yamahasynth.com
Download MONTAGE Firmware V3.5
MONTAGE OS V3.5 / MODX OS V2.5 New Features
MONTAGE OS V3.5 / MODX OS V2.5 Sound Demo