Conferencing & Collaboration
Conferencing & Collaboration
Hybrid work, which combines work and telework, is now being adopted by an increasing number of companies. Clear audio is essential for teleconferencing as unwanted noise and inconsistent signals can hinder collaboration and productivity. So, wouldn't the obvious solution be to simply configure and install a high-performance audio system? Well, not exactly. Since the people operating the system will likely have little to no sound engineering experience, it is imperative that the audio system not only sounds great, but it also easy to operate via an intuitive UI. Yamaha offers several system packages that are easy to set up and control, and allow for customization according to your application and size of your space.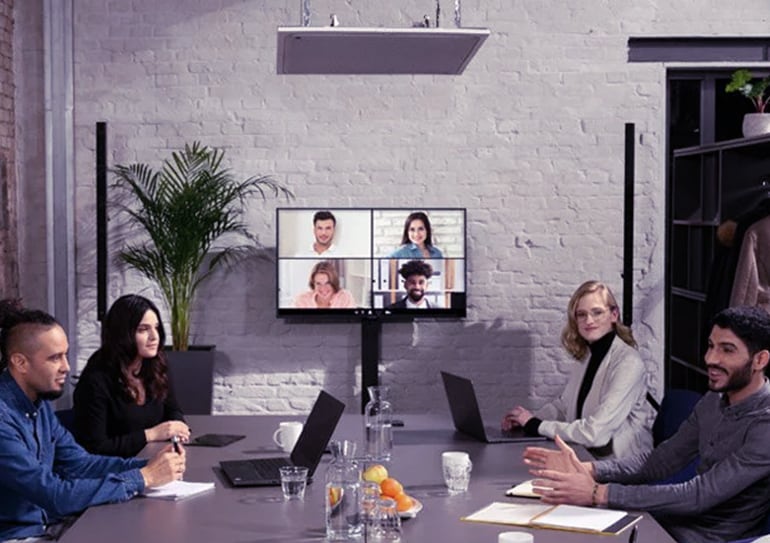 Comfortable, natural communication that feels as if you are in the same space
Yamaha signal processors are equipped with a variety of voice-specific digital processing functions that eliminate sound problems and ensure clear communication.
For example, the Acoustic Echo Canceller (AEC), automatically suppresses feedback that can interfere with communications, and the Auto Mixer function, automatically adjusts the volume of multiple speakers in real time.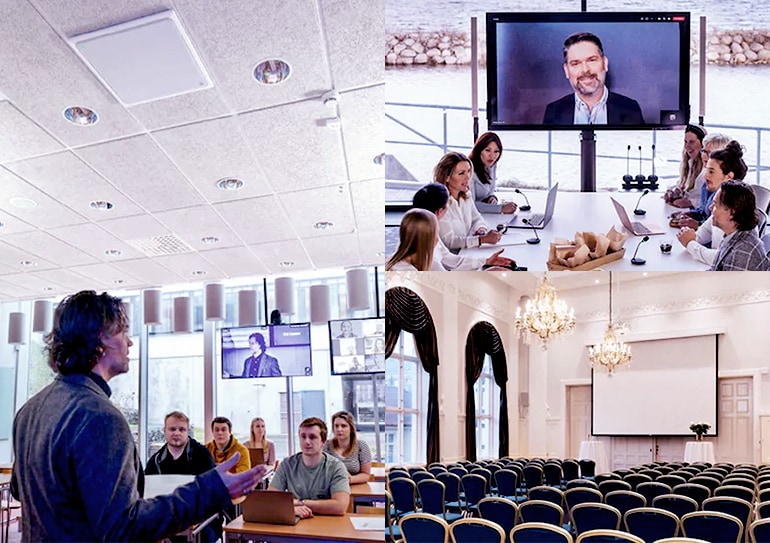 Extensive lineups covering rooms of all sizes, from input to output
Yamaha's conferencing lineup includes a number of packaged solutions such as the ADECIA audio solutions for remote conferencing, which features a choice of microphone types, the YVC series all-in-one speakerphones for different room sizes, and the CS video collaboration systems. It also features an intuitive and unified UI that will save time and increase productivity during conferences and meetings. Used in combination with compatible processors, these systems can accommodate larger or more sophisticated environments. Our flexible lineup also allows for expansion beyond conference rooms and into surrounding facilities such as auditoriums as well.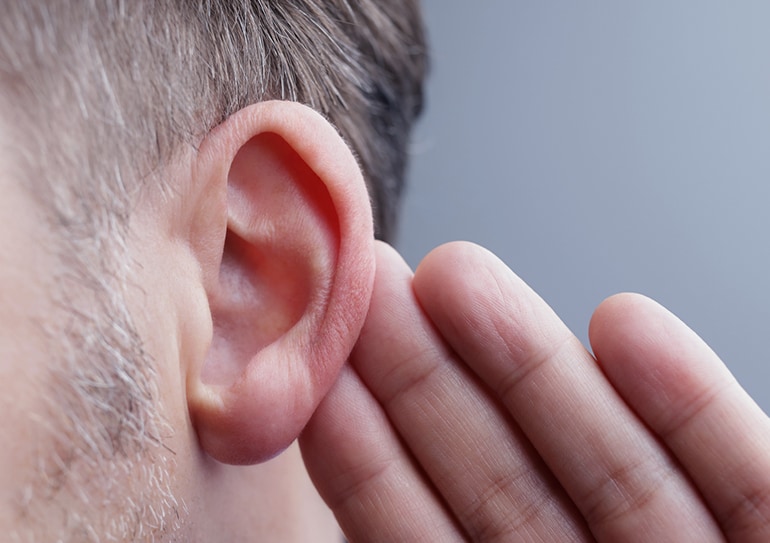 Advanced acoustic technology that prevents confidential information leaks
The need for confidentiality of private conversational information in facilities where personal information is handled is increasing year by year. Our MRX7-D Signal Processor features speech privacy technology that utilizes a special proprietary voice to camouflage conversational information and obscure the meaning of conversations. Highly effective at lower volumes, it helps to maintain confidentiality of information without compromising the comfort of a space.
Conferencing (Large)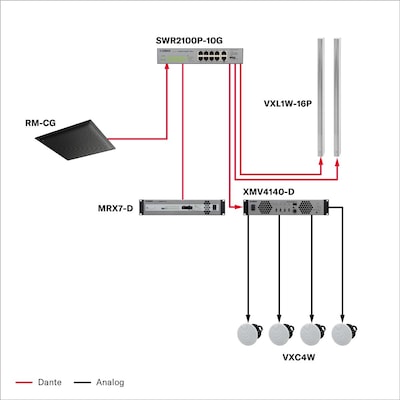 This system is suitable for large-scale conference rooms. Advanced digital signal processing technologies ensure a comfortable audio experience for everyone in attendance, providing consistent microphone and speaker performance regardless of where attendees are listening or speaking from within the space.
Conferencing (Medium)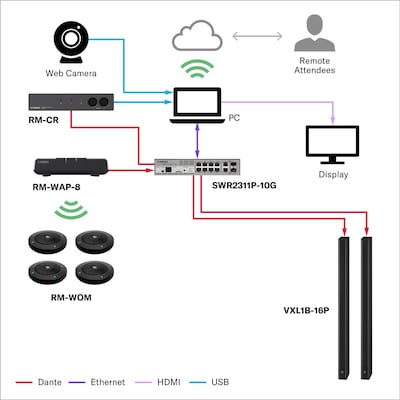 This system is suitable for mid-size conference rooms. The ADECIA solution, consisting of an extensive lineup of wired and wireless microphones of varying directionality, allows users to select the ideal microphones for their intended purpose and usage of the conference room. This system helps users to get the most out of their time in the space by eliminating the need for time-consuming pre-conference preparation and setup.
Conferencing (Small)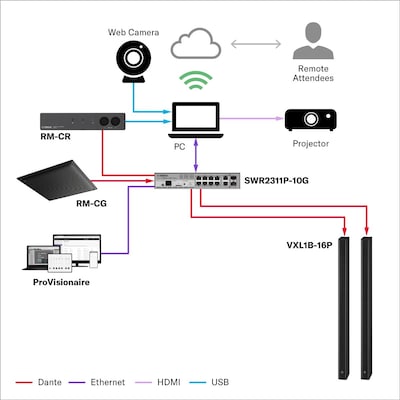 This system is suitable for smaller sized conference rooms. Installed ceiling microphones capture sound consistently throughout the room regardless of where attendees are seated, and seamlessly blend into the environment to provide a comfortable setting that allows everyone to focus on the business at hand.
Huddle Space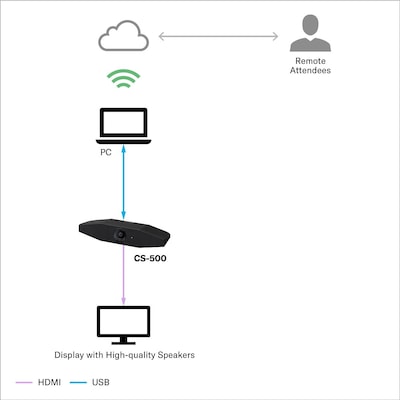 This system is suitable for use in open spaces. In some cases, especially when collaborating in open spaces, productivity can be affected by inherent challenges such as ambient noise and lengthy setup times. Yamaha's communication products feature dedicated technologies that automatically attenuate unwanted noise while recognizing voices and adjusting directivity and levels to ensure efficient and smooth collaboration.
Hybrid Room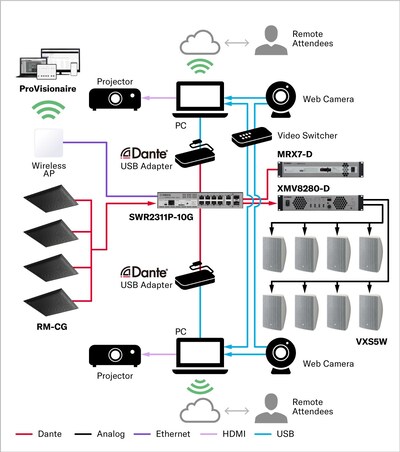 This system is designed for a conference room that can be divided into two separate rooms. By configuring compatible Yamaha components, the room can be freely divided or integrated without complicated setup or operation. This allows the system to flexibly respond to layout changes depending on the number of meetings and attendees, and purpose of the meetings.
Conferencing & Collaboration