Yamaha Music Education System Course
Yamaha Music Education System Course
The Yamaha Music Foundation conducts consisting music education through courses designed for a broad range of students, including children, youths and adults
For 3 to 3 years 11 months old
Junior Music Course (JMC)

For 4 years to 5 years 11 months
Junior Extension Course (JXC)

For JMC graduates
For JXC graduates
Advanced Ensemble Course

For JNC graduates
Junior Special Advanced course

For JMC graduates
Young Musicians Program

For 6 to 8 years old
Teenagers & Adults Program

For 9 years old & above & adults
Why music ?
Every child, woman and man has an innate musical ability. This latent potential can be developed and nurtured for healthier and more enriching lifestyles. Research shows that a good music education stimulates creativity, builds confidence and enhances a child's all-round development. As adults they enjoy enhanced social recognition because of their ability to listen, read, play and express their feelings through music.
Why Yamaha Music School?
The Yamaha Music School has its beginning in Tokyo in 1954, with the vision that "children will become friends with music and this will make their life richer." The fundamental goal of its activities is to discover and draw out to the utmost extent the musicality that everyone is born with, to help develop the ability to enjoy music by creating and playing by himself and to share the joy with others. Half a century has passed and Yamaha has continued to provide its students with music education based on a unique and efficient curriculum, which is different from conventional education methods. There are now about five million people throughout the world who have graduated from the Yamaha Music Schools.
The Junior Original Concert (JOC), where children perform their own compositions, which are the genuine reflection of their emotions, is known as a showcase of the result of Yamaha's education activity. The scope of this activity has expanded to become a worldwide activity, by often cooperating with the charitable activities organized around the world.
Today, the Yamaha Music School operates in more than forty countries and regions, and more than 730,000 students, young and old, are sharing the universal joy of music.
Why Yamaha Music Education System Is Efficient?
The highly acclaimed Yamaha Music Education and Examination System is the only integrated learning and grading program, with international recognition in more than 40 countries! This spells vast benefits.
Extensively researched methodology and syllabus You are assured of the best teaching methods and standards, maintained by professional music specialists who are highly qualified in the latest research and development in music education for all age-groups.
Music Popularization
Music popularization activities, regularly conducted in Yamaha Music Schools, offer further motivation and opportunities for students to develop their talents, through adequate exposure to class concerts, recitals, music workshops and even international festivals.
Credible and professional evaluation The system is integrated with different stages of professional evaluation so every individual's potential is maximised. It provides certification up to the equivalent of Concert Artiste and Advanced Diploma levels. which means that Yamaha graduates have the added advantage of a career option recognized by Yamaha Music Schools and other institution throughout the world.
Yamaha Graded Examination System Structure
Years of international success
The ultimate proof of appropriateness of the contents and methodology of the Yamaha Music Education system is the demonstration of its results - the generations of Yamaha graduates all over the world who, regardless of economic or cultural background, have developed into well-rounded confident individuals making a mark in today's world
Yamaha Graded Examination System Structure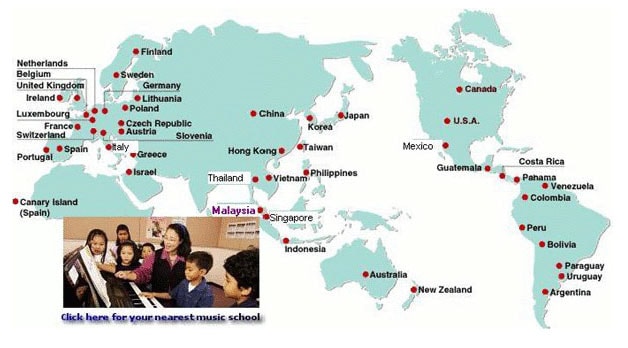 Since the first Yamaha Music School overseas opened in Los Angeles in 1965, our network has expanded to include Latin America, Europe, Asia and Oceania. We now have more than 180,000 students learning and experiencing the joy of music under 6,000 instructors at 1,600 locations in more than 40 countries/regions worldwide. In the course of this expansion, we have harmonized our approaches with local cultures and national characters even as we hold firm to our own educational philosophy.