Yamaha Presents International Highlight Concert 2022 Online Premiere
Yamaha Presents International Highlight Concert 2022 Online Premiere
Performances by Students of Yamaha Music School Around the World
Yamaha Corporation announces that it will host the Yamaha International Highlight Concert 2022 Online Premiere, an online concert performed by students of Yamaha Music Schools in over 40 countries and regions around the world, with streaming to begin at 8:00 pm (JST) on December 11 on the Yamaha Corporation official YouTube channel.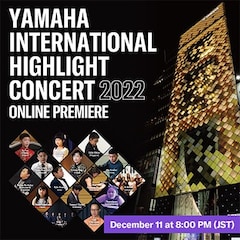 The Yamaha International Highlight Concert was first held in 2019 in Singapore as a unification of the Asia Pacific Junior Original Concerts, Yamaha Electone Festival, Yamaha Junior Piano Competitions, and other concerts featuring students involved in each of the various Yamaha Music School activities. In addition to featuring classical pieces on piano and original pieces composed by Junior Original Concert* student performers, the concert will also bring together students who are studying pop music such as singing, drumming and more. The concert will be held online the same as last year and will feature 15 groups of students from Canada, China, Indonesia, Japan, Lithuania, Malaysia, Singapore, Taiwan, Thailand, and the USA. As for the finale, Yamaha guitar artist Jack Thammarat will appear in a special band formed for this event. Mr. Thammarat will perform his newly composed song for the event, "Freedom of Music" with eight Yamaha Music School student performers from Indonesia, Taiwan, Thailand and Venezuela.
Event:
Yamaha International Highlight Concert 2022 Online Premiere
Date and Time:
Streaming begins Sunday, December 11, 2022 at 8:00 pm (JST)
Streaming site:
Yamaha Global, the official YouTube channel
No, Title, Performer, Musical Instruments, Country / Region
1, Sword and Shadow (Composed by Chang YuTse), Chang YuTse, Electone, Taiwan
2, Lost in a Maze (Composed by Maximus Yeong Kye Tzen), Maximus Yeong Kye Tzen, Piano, Malaysia
3, Endless Battle (Composed by Yedija Nicholas Kurniawidig), Yedija Nicholas Kurniawidig, Electone, Indonesia
4, An Adventurous Day (Composed by Melody Qu), Melody Qu, Piano, Canada
5, Bee Orchestra (Composed by Sun Yikai), Sun Yikai, Piano, Singapore
6, Our Wonderful Paradise (Composed by Leung Ting), Leung Ting, Piano, China
7, Colors of the Forest (Composed by Kyle Yeung), Kyle Yeung, Piano, USA
8, Cherry Blossoms -A Moment They Fall (Composed by Yume Fujimori), Yume Fujimori, Piano, Japan
9, Battlefield Muster (Composed by Wu Jiawen), Wu Jiawen, Electone, China
10, Rapsodia Nusantara No.6 (Composed by Ananda Sukarlan), Zoe Augusto Pook, Piano, Indonesia
11, Fantasy in D minor KV397 (Composed by W.A.Mozart), Samuel Dazhill, Piano, Indonesia
12, Near Dawn (Composed by Royal Song), How7, Band, Thailand
13, Shouting in the Dark (Composed by Band X), Band X, Band, Lithuania
14, Voyage to the Crystal Island (Composed by Thannapas Luanpitpong), Thannapas Luanpitpong, Electone, Thailand
15, Sonic (Composed by Lim Han Quan), Lim Han Quan, Electone, Singapore
16, Freedom of Music (Composed by Jack Thammarat), Jack Thammarat And Special Band, Band, Indonesia / Taiwan / Thailand / Venezuela
*Yamaha Junior Original Concert
The Junior Original Concert(JOC) features Yamaha Music School students aged 15 and below from around the world performing their own original compositions. Based on the Yamaha method, focusing on creativity and originality, each JOC concert presents young performers/composers communicating their own heartfelt emotions using the international language of music. Founded in 1972 on this philosophy, JOC's activities have spread to over 40 countries around the world for over 50 years.
What is Yamaha Music School?
The philosophy of Yamaha Music School is "To foster the musical sensitivity that everyone is born with, to develop the ability to enjoy creating and playing the music of their own and ultimately share the joy of music with anyone." Yamaha Music Education System is a systematic method to implement this philosophy. We are actively involved in training teachers, developing teaching materials, implementing a musical skill grading system (Yamaha Grade Examination System), and holding concerts. In addition, we are promoting the popularization of music and educational activities while also working on the development of schools throughout Japan as well as staff training.
Yamaha Music School first opened in Japan in 1954, followed by the first international location in Los Angeles, USA in 1964, and now over 190,000 students learn and experience the joy of music around the world. While harmonizing with the unique cultures and nationalities of different countries, the joy of music is being spread.
Yamaha Presents International Highlight Concert 2022 Online Premiere