Yamaha Music School Cares For You
Yamaha Music School Cares For You
Yamaha Music School cares for the well-being of her students and parents, customers and teachers and we can't wait to welcome each of you back, where we can meet for lessons and enjoy music playing and making together.
Bearing the health and wellbeing of everyone under the Yamaha Music School premise, preparation works are in place in ensuring that each one who walks through our door are safe and well.
With that being said, we at Yamaha Music School will be ready to open her doors to the New Normal, where strict adherence to sanitization guidelines and protocols will be our top priority.
Kindly refer to the SOP Guidelines for Yamaha Music School Business Recommencement below.
In strict adherence and compliance to the directive and Standard Operating Procedure (SOP) issued firstly from the Majlis Keselamatan Negara (MKN), and subsequently follow suit by the various state government nationwide; our lesson recommencement will be subject to the directives issued by the respective states.
Yamaha Music Schools are equally concern of your safety and well-being, therefore, they are maintaining close contact to obtain the official directive and will be in liaison with parents, to advice on the date for lesson recommencement.
For more information regarding lesson recommencement, please kindly refer to your respective Yamaha Music Schools.
Important Note to parents and students:
1. There will be restrictions in number of headcounts per family within the Yamaha Music School premise.
Before MCO/CMCO/RMCO: No restriction of headcount.
During the NEW Normal: One (1) family consisting of one (1) parent and one (1) child/student.
2. Parent attendance are still required for Music Fantasy, Music Wonderland, Junior Music Course.
3. Group Lesson teachers have been advised to refrain from conducting group subject activities such as Solfege Singing in front of the classroom to ensure Social Distancing. Such activities shall be conducted with children seated at their respective instrument.
We Care For You. Stay Safe and Take Care.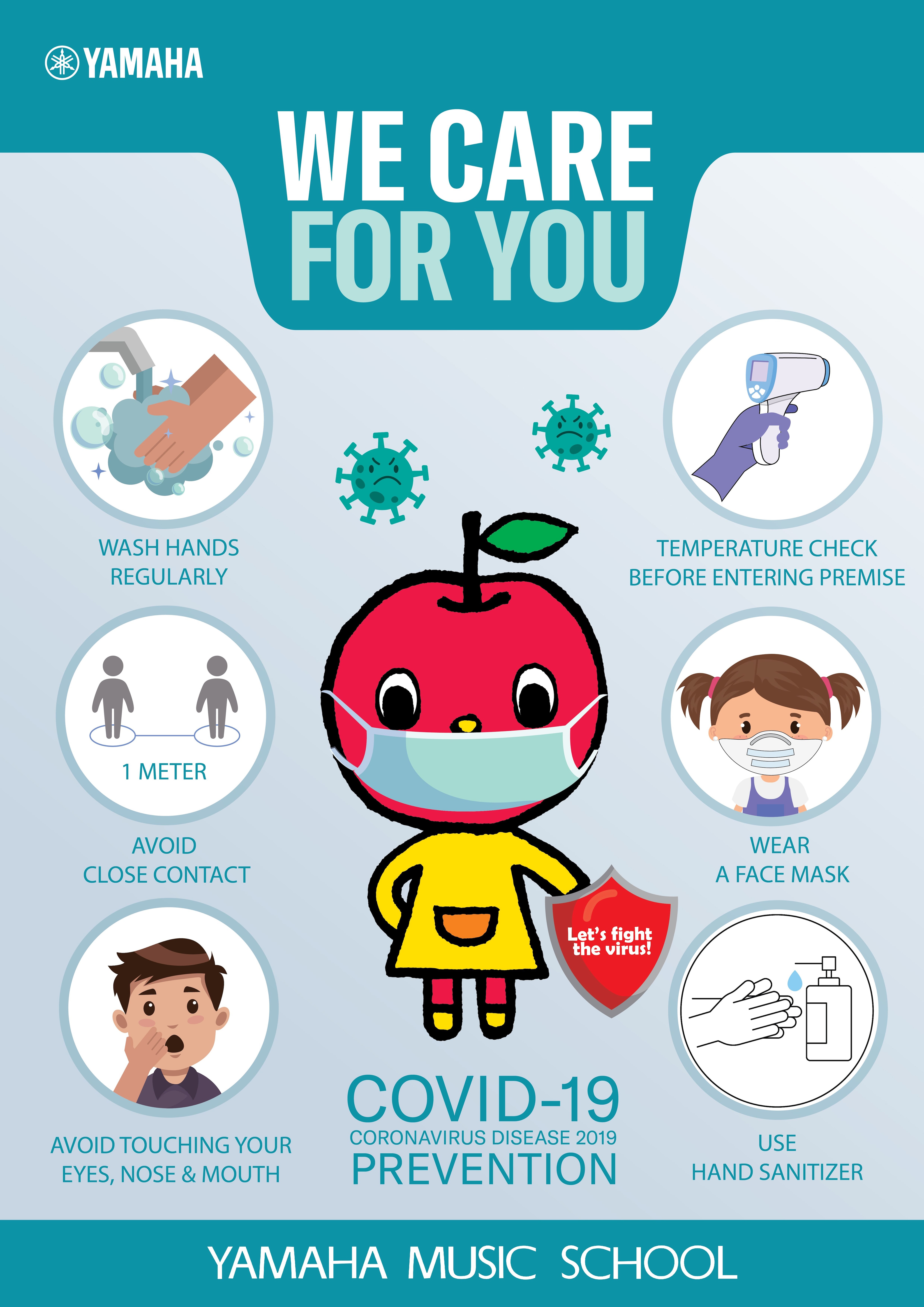 Yamaha Music School Cares For You