Biography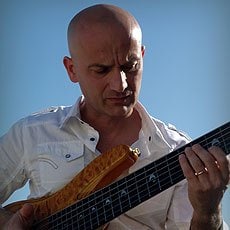 Simon Sammut, (born 6th September, 1965) son of Joseph Sammut, well-known Maltese Orchestra Conductor and Composer, comes from a musical family. Simon started his initial studies at a young age and reached Advanced levels of music education. After studying piano for a number of years, he started playing electric bass at the age of thirteen. He became captivated by the sound of legendary bass players as James Jamerson, Jaco Pastorius, Francis Rocco Prestia of Tower of Power, Verdine White of Earth Wind & Fire and Larry Graham. After some lessons with his father Joseph, who himself was an established bass player during his young days, Simon continued to study bass playing and soon established himself as a popular bass player.
At the age of 15, Simon joined his first rock band "Hangover". He quickly moved from playing rock to blues, soul, funk and jazz. Later on he began to play the acoustic bass. As a performer, he has played with leading musicians and covering a wide span of musical activities, ranging from rock concerts, jazz sessions to musicals amongst others.
As he is a fluent reader and a very versatile musician with an eclectic taste, he is quite busy and has for quite some time now played with various bands and orchestras all over Malta as well as abroad. He has appeared on various TV shows in Malta.
Besides his work as a performer, Simon is equally at home in the roles of composer, arranger, producer and music teacher. He teaches electric bass and double bass to students, from beginners to more advanced levels.
Simon's main instrument is the Yamaha TRB JPII. Simon says that "the JPII has a very musical voice in all registers, especially in the high register, which makes it unique for soloing. The JPII's intonation is very good and a very present, muscular sound".