Biography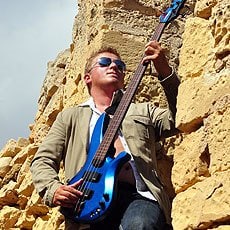 Born in Gozo, one of the tranquil Maltese Islands in the heart of the Mediterranean, Mark Grech is one the most versatile bassists to ever set foot on the archipelago.
Mark was born into a musical family on the 11th of August 1989. Constantly exposed to music, Mark tried his hand at the bass and displayed much talent straight away. He continued to flourish in all kinds of musical styles throughout the years, playing music with exceptional passion. His late father, Domenic, was the well known lead singer and guitar player of the famous Gozitan band 'The Tramps', who dominated the Maltese music charts of the early 70's and 80's.
Mark's main influences are bass-players such as Marcus Miller, Victor Wooten, Stanley Clarke, Wojtek Pilichowski, Mark King and Billy Sheehan. Mark has found music to be a means of inspiration, communication and a way of churning out emotion into every single musical note. You can find him in a multitude of venues - from the quietest bar doing an unplugged session, to an underground rock gathering; all the way up to the most prestigious concerts that the country has to offer. Mark has played with some of the best artists on the island and still continues to work on projects focusing on innovation and creativity, bringing cutting edge bass playing to whatever the project may be.
The artist is a very funky bass-player and uses several slapping techniques in his bass playing. Mark has also incorporated techniques mainly used on guitars such as tapping and harmonics into his unique style. His rock influences, which include, amongst others: Mr Big, Whitesnake and Winger; have led him to break away from conventional bass playing so as to develop his own style focusing on solid melodic bass lines with an awesome groovy touch.
Mark looks forward to the future, taking one step at time and enjoying the wonderful musical journey that he has now become his life.
"My guitar is not simply an instrument for me! It is a substantial part of my life, my own being!" (Mark Grech)